YouTube star Michelle Phan sued over copyright breach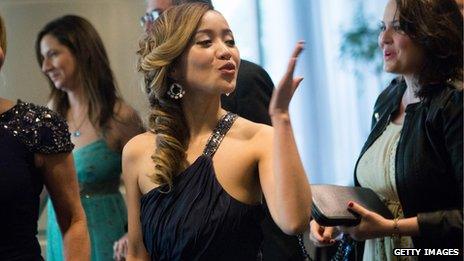 A leading YouTube entrepreneur is facing legal action for alleged copyright infringement in her videos.
Ultra Records, which has musicians Kaskade, deadmau5 and Calvin Harris on its books, is suing Michelle Phan.
The label and its publishing arm claim she has used about 50 of their songs without permission in her YouTube videos and on her own website.
But one of the artists whose work she is alleged to have used has said he supports Ms Phan.
Kaskade, whose work features most prominently in the record label's complaint, said: "Copyright law is a dinosaur, ill-suited for the landscape of today's media."
He expressed his disbelief on Twitter that his own record label was suing Ms Phan for copyright infringement. "And the kicker... they're citing her using my songs for the suit. Come. On," he wrote on the site.
But Kaskade, who was nominated for a Grammy award last year, said there was little he could do to stop the label pursuing the case.
In response, Ms Phan thanked him and wrote: "Your music inspired not just myself, but millions of my followers to dance and dream on."
Michelle Phan found success posting make-up tutorial videos, attracting more than six million subscribers to her channel since she started it in 2007. She is a member of a group of YouTube stars whose popularity rivals that of many mainstream pop stars.
One of her YouTube videos, Barbie Transformation Tutorial, has been viewed more than 50 million times. Her tutorial on how to reproduce Lady Gaga's look has been watched more than 45 million times.
British YouTube tutorial stars such as Sprinkle of Glitter have signed deals with major brands. Others include Tanya Burr, Lily Pebbles and Pixiwoo.
According to court documents filed in California, the label and its associated publisher, Ultra International Music Publishing LLC, claim Ms Phan makes money from advertising attached to her YouTube channel and website.
The label also said she "has been featured in a high-profile and multi-platform advertising campaign for YouTube, which features some of YouTube's most popular personalities".
"[Ms] Phan has also been featured in national advertising for Dr Pepper," it said.
The label said that, while its complaint "includes nearly 50 examples of blatant copyright infringement, plaintiffs' analysis is still preliminary, and the full extent of [Ms] Phan's infringement has not yet been determined".
'Substantial and irreparable injury'
The parties have asked for $150,000 (£88,000) for each proven copyright infringement.
The publishing arm has also demanded an injunction, claiming that it has "sustained and will continue to sustain substantial, immediate and irreparable injury" as a result of Ms Phan's use of its copyrighted material.
Ms Phan's videos have become increasingly sophisticated, showing her in different locales, with some even resembling music videos themselves.
They continue to offer make-up advice, and are often accompanied by music.
The record label and music publisher claimed Ms Phan had profited from the use of their artists' tracks and compilations.
Her Night Life Favorites video, advising what to carry for a night on the town, used Kaskade's song 4AM, they alleged.
Her internet fame has also led to a book deal and the design of a make-up line, according to the complaint.
The plaintiffs said Ms Phan had been informed she did not possess a licence "and yet continues to wilfully infringe in blatant disregard of plaintiffs' rights of ownership".
The publisher said it believed Ms Phan would continue the alleged infringement unless ordered to stop by the court.
A spokesman for Ms Phan said the lawsuit "lacks any merit". She said: "Ultra agreed to allow Michelle to use the music and Michelle intends to fight this lawsuit and bring her own claims against Ultra.
"Michelle's intention has always been to promote other artists, creating a platform for their work to be showcased to an international audience. Kaskade, whose music has been featured in Michelle's videos, has publicly defended Michelle against Ultra's claims and acknowledges the success he's gained from her support."
The BBC was unable to verify the claim that Ultra granted Ms Phan permission to use the music. A lawyer for the label and publisher did not respond to a request for comment.
Related Internet Links
The BBC is not responsible for the content of external sites.