'Cock-up' as Irish genealogy site leaks personal data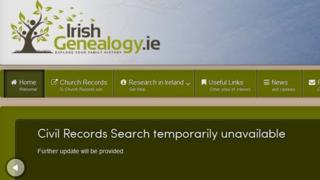 An Irish government genealogy site has been criticised by the country's data watchdog for leaking ID information.
Sensitive information about living individuals, such as birth dates and maiden names, was available on Irishgenealogy.ie site until last week.
The data on living people has been removed on the orders of the country's data protection commissioner.
Commissioner Billy Hawkes told the Irish Times he was "shocked" by the amount of data that had been available.
He described the situation as a "cock-up" and a "shocking example of the public service falling down on the job".
The genealogy site was launched in 2013 to help Irish citizens trace their ancestors and draw up a family tree.
In a statement, the Office of the Commissioner said it had advised the Irish government on the creation of the site and had been assured it would only use information from birth registers more than 100 years old.
However, said the statement, it had become clear last week that the site had featured data from contemporary civil records about living individuals.
While much of this data was available for a fee from the relevant authorities, this was very different to putting it online for free., it added.
The Irish Times said the site made it possible to build up a very accurate picture of someone's family history including the names of parents, children, marital status and birth date.
It is not clear whether any ID thieves have targeted the site and taken any sensitive information.
The genealogy site now displays a notice saying the civil records data is "temporarily unavailable".
It said it was liaising with the Department of Arts, Culture and the Gaeltacht about how "to ensure that the operation of this site complies with data-protection law, prior to the website going live again".