Britons spend more time on tech than asleep, study suggests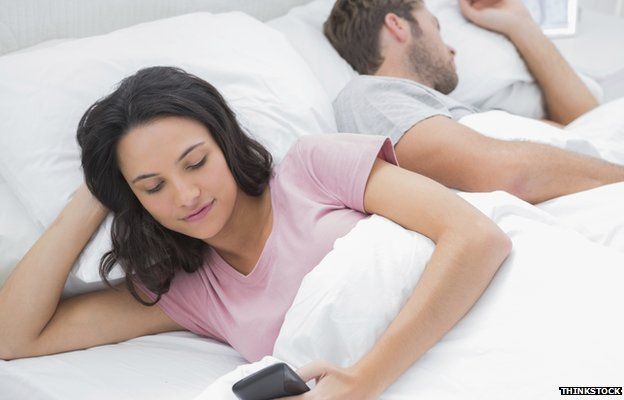 Britons spend more time using technology devices than they do sleeping, research suggests.
Communications regulator Ofcom said UK adults spend an average of eight hours and 41 minutes a day on media devices, compared with the average night's sleep of eight hours and 21 minutes.
Almost four hours a day are spent watching TV according to Ofcom's survey of 2,800 UK adults and children.
TV and radio remain popular despite the growth of digital media, it found.
One analyst said this proved that "it's still early in the digital revolution".
Only 8% said they used email, while just 3% said they communicated using a landline phone.
Younger people were also found to have an advanced understanding of technology devices, with six-year-olds having the same level of knowledge as the average 45-year-old.
The poll also indicated that those aged 16-24 are likely to do more than one task at a time, squeezing 14 hours and 7 minutes of media activity into each day, in just over 9 hours.
Dr Aric Sigman, a psychologist who focuses on childhood disease, says the Ofcom statistics are "another measure showing that children are spending more of their recreational time looking at screens, particularly in bedrooms by themselves".
Media overtakes sleeping
Over 50%
of the average waking day is spent on media or communication activity - more than is spent on sleep
8hrs 41mins texting, talking, typing, gaming, listening or watching

8hrs 21mins sleeping
This, Dr Sigman says, is "health and development issue", with some of the adverse effects associated with prolonged screen time including obesity and diabetes.
"We need to think of recreational screen time as a form of consumption in the way that we thing of sugar, fat alcohol, hours in the sun - measured in units of hours per day," he added.
Analysis: Rory Cellan-Jones, BBC technology correspondent
If you want to see the future, look at the media habits of Britain's 14 and 15 year olds.
That's the message from Ofcom's research - and that could be scary for some old media companies.
The techie teens are watching less live TV, and much less live radio than adults - and turning to YouTube and streaming music services for their entertainment.
They are giving up on voice calls and email in favour of text- based communication, flitting from Instagram to WhatsApp to Snapchat in a constant search for what's new.
What we don't know is what the teen techies will do when they grow up. Will they settle down in front of their own living-room TV, tune into a radio station, even buy a daily newspaper? Or will they continue to multi-task and experiment with every new thing? If that does turn out to be the case, then all kinds of media businesses will struggle to survive.
In line with previous Ofcom studies, the report showed that live TV and radio is still strongly resilient, despite the many alternative methods of consuming content on offer.
The average amount of time people spent watching TV each day - three hours and 52 minutes - was more than the combined time spent on mobile phones, landlines and the internet.
But this is the first time daily TV viewing has dropped below four hours since 2010.
Ian Maude, from media research firm Enders Analysis, said: "Television is still king when it comes to media consumption but an increasing share is viewed via catch-up or on-demand especially amongst the YouTube generation."
But he added that "it's still early in the digital revolution".
Almost 80% of TV viewing is done without simultaneously using another device, and the vast majority of TV is watched live, rather than via recording devices or playback services, such as BBC iPlayer or 4oD.
The rise of digital formats has also not convinced the vast majority of Britons to get rid of their physical media collections.
Daily media consumption
8hrs 41mins
spent each day using media and communication devices
3hrs 52mins watching television

2hrs 46mins listening to radio

1hr 8mins on the internet (PC/laptop)

28mins using a mobile phone

9mins talking on a fixed phone
BBC
Some 84% of UK adults surveyed by Ofcom said they had a book collection and a similar number said they owned music CDs.
Meanwhile, four out of every five people said they had a DVD library - a figure that has stayed roughly the same since 2005.
Even the post has not been rendered obsolete. Approximately a third of adults questioned said they had sent a personal letter in the past month.
However some forms of traditional media are suffering from the rise of digital.
When asked which form of media they would miss most, just 2% of those aged 16 or older said they would feel the absence of newspapers or magazines.
To coincide with the release of its report, Ofcom also launched an online quiz, where users can find out how tech savvy they are and are offered advice on how to improve their understanding of the digital world.
Related Internet Links
The BBC is not responsible for the content of external sites.