SketchFactor app for unsafe areas in racism row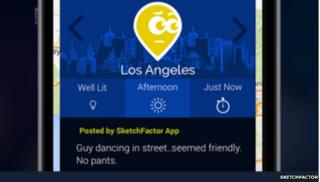 The BBC does not pay its staff a hardship allowance to live in New York City - but maybe it should.
That's at least according to a new app, SketchFactor, which launched on Friday.
The app uses crowd-sourced data from users to pinpoint "sketchy" areas as well as to provide safe walking directions.
It says that just down the block from the BBC's bureau here, a "random, super tall, super heavy dude" is going about giving unwanted bear hugs.
In fact, several alarming red flags pop up when one looks at the area around the bureau.
But in reading the comments, some reports are not as threatening.
"There's a homeless shelter or something that houses the poor here. The residents hang out front and never bother anyone, but it's uncomfortable as you pass an otherwise nice area," reads one.
'Tone deaf app'
It is comments like these that have landed the app's founders, Allison McGuire and Daniel Herrington, in hot water.
"White people create terrible app to avoid, um, sketchy areas" was one headline. "Want to Avoid Black Neighbourhoods? There's an App for That" was another.
The founders did not reply to a request for comment, but on their website sought to refute such claims.
"SketchFactor is a tool for anyone, anywhere, at any time," they wrote.
"We have a reporting mechanism for racial profiling, harassment, low lighting, desolate areas, weird stuff, you name it."
They add that they tested the app with 100 people in various community groups in New York.
Ms McGuire says she was inspired to create the app after living in Washington DC as a young non-profit worker.
After getting supportive feedback, she and her co-founder Mr Herrington quit their jobs and moved to New York City.
The app was a finalist in a city-sponsored BigApps competition, and has several thousand dollars in investment.
In addition to user data, the app also incorporates public crime data and trusted sources.
Crowdsourcing safety
SketchFactor is just one of many products that aim to crowdsource safety information about the areas in which users live and walk - and it is not the first to be hit with the racism label.
Last autumn, the briefly-lived GhettoTracker.com came under fire both for its name, which many found offensive, and because in labelling an area a "ghetto", it took into account user feedback and not official data such as crime rates. (It later changed its name to Good Part of Town before disappearing altogether.)
In 2012, when Microsoft was granted a patent for technology which would incorporate crime data when providing walking directions in its Bing maps service, it was dubbed the "avoid ghetto" GPS patent.
Some apps have had success by focusing more on specific communities: Nextdoor is a private social network in which users in specific neighbourhoods can communicate about local issues, including reporting crime and working with police to solve issues.
The key, say experts, are the users.
"Technology is only as good as the people who form part of its developer and user community," Seeta Pena Gangadharan, a senior research fellow at the New America Foundation's Open Technology Institute, told the BBC.
"A tool like SketchFactor might actually be incredibly powerful for a community in building safety by allowing people to share stories but it really does depend on the context. You could imagine a community that might have a xenophobic tendencies or exclusionary tendencies to use an app like that as an extension of already existing biases."