Apple bans two hazardous chemicals from assembly lines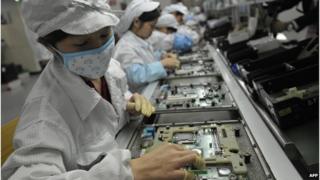 Apple has banned two potentially hazardous chemicals from being used in the final assembly process at 22 of its iPhone and iPad production plants.
Benzene, which is a carcinogen, and n-Hexane, which can cause nerve damage, will no longer be used in cleaning agents or degreasers at the facilities, the firm said.
The move follows a campaign urging the tech giant to scrap the substances.
One campaign group said Apple needed to "look deeper into its supply chain".
Apple's environmental director, Lisa Jackson, announced the commitment in a statement, saying the company launched an investigation after questions were asked about whether the chemicals were used at its factories.
The firm said it found "no evidence of workers' health being put at risk" at any of the 22 plants visited, although four of the facilities were found to have traces of benzene or n-hexane.
As a result, Ms Jackson added: "We've updated our tight restrictions on benzene and n-hexane to explicitly prohibit their use in final assembly processes."
The iPhone maker also released its "regulated substances specification" - the guidelines that govern Apple supply chains, which have previously been confidential.
While benzene and n-hexane are commonly found in many household products, as well as in gasoline and paint thinners, prolonged exposure to the chemicals can cause adverse health effects.
'Widespread disregard'
The 22 sites concerned, most of which are located in China, collectively employ nearly 500,000 people.
However they represent only the "first tier" of Apple suppliers, as there are hundreds of smaller firms that also work on the firm's products in the country.
China Labor Watch, the New York-based non-profit organisation which campaigns for Apple to improve its safety standards, told the BBC it welcomed the commitment, but emphasised that the true test would be in its implementation.
Executive director Li Quang said: "Apple has for years had commitments to labour standards like working hours, overtime wages and temporary worker regulations, but there is often widespread disregarding of these codes of conduct."
Mr Li added he was also concerned about "Apple's ability to monitor whether implementation is taking place".
In a statement on its website, environmental campaign group Green America urged Apple to go further to ensure the safety of workers in its supply chain.
"Beyond benzene and n-hexane, there are thousands of chemicals used in the manufacturing of electronics - some of which are largely untested - and many chemicals used by Apple suppliers remain undisclosed," it said.
The charity added that Apple needed to "look deeper into its supply chain, to the second and third tier suppliers, where chemical usage and safety procedures are less controlled".