Google removes 12 BBC News links in 'right to be forgotten'
By Edwin Lane
Technology reporter, BBC News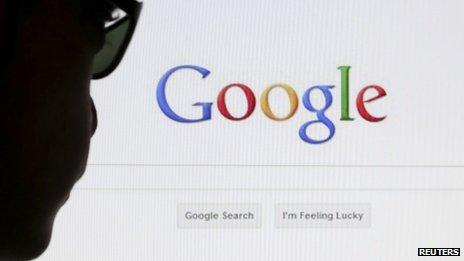 Google has removed a total of 12 BBC News stories from some search results since controversial EU "right to be forgotten" laws came into force in May.
Google notified the BBC of each of the removals, but it did not disclose who had made the removal requests.
The stories will no longer appear in the results of certain search terms.
Only searches made in Europe are affected under the law.
Previously Google said it had been inundated with requests from individuals to remove web pages since the ruling by the European Court of Justice three months ago.
Last month the search giant told regulators that it had received more than 91,000 requests to remove a total of 328,000 pages from its search results.
It said it had approved more than 50% of those processed, but did not say how many had been processed so far.
The "notices of removal" issued to the BBC by Google said the web pages would not appear in the results returned for "search queries for names or other personal identifiers".
"Please note that in many cases, the affected queries do not relate to the name of any person mentioned prominently on the page," the notices continued. "For example, in some cases, the name may appear only in a comment section."
Others typically feature court cases, including one dating from 2001 which involved three men accused of possessing bomb-making equipment in Ireland.
Other stories taken down covered a wide range of incidents. Google removed a 2002 story concerning a dispute between two Somerset families over the ownership of a wire-haired terrier called Wellie.
Other stories removed include: