UK's 'most generous town' revealed by JustGiving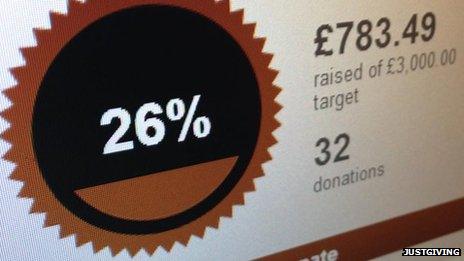 Bedford has been crowned the UK's most generous town, according to data gathered by donation site JustGiving.
In the year to May 2014, 41,631 people with a Bedford postcode gave a total of £1,145,967 to appeals on the site.
JustGiving compiled its list based on the number of givers and the amount donated in relation to populations.
Richard Fuller, the MP for Bedford & Kempston, said he was "thrilled but not surprised" by the findings, saying it reflected the town's "solidarity".
"It's great to see that sense of personal responsibility to not just look after yourself but to look after others," he told the BBC.
"What's distinctive about Bedford is that going back decades now it's been a very welcoming place for people with different backgrounds."
The top 10 ranking was determined by calculating how much a town had donated via the site - adjusted to account for the number of donors relative to the population size.
Top 10 'most generous' places in the UK
* Update: The table in this report has been revised after JustGiving recalculated its figures for Bristol.
The town of Sevenoaks had the highest amount per individual giver - an average of £42.29 each was donated by people there.
The data only reflects donations made through the JustGiving website, and so does not take into account other charity donations made by people, - such as putting cash in collections, making payments via direct debits and standing orders, or through other online services.
Aberdeen was the highest ranked Scottish location, coming in sixth overall. No towns in Northern Ireland or Wales made the top 10.
JustGiving is the UK's largest charity fundraising website and is widely used for people undertaking sponsored events to raise money for good causes.
However, it has been criticised for charging charities a fee to use its site, and it takes a small cut of every pound donated - unlike rivals such as Virgin Giving.
JustGiving said it reinvests these charges into improving its service.
The data highlighted the growing importance of online donating and campaigning to charities across the country.
While direct mail still remains the most popular way of donating to charity, online services are growing rapidly - particularly among young people.
"If you look at the distribution of donors by their age, direct mail is most popular amongst those aged 70-plus," said Matt Haworth, co-founder of Reason Digital, a group which advises charities on online fundraising.
"We need to replace that with new blood. We're going to see in the next few years that the majority of income is digital. Charities really need to prepare."
He said that fundraisers were having to adapt how they communicated with potential donors to allow for shorter attention spans online.
"Everything's getting shorter." he said.
"You used to send your supporters a long penned letter that might go into great detail. That is now giving way to shorter messages, tweets, and text-giving."