China plans new PC operating system in October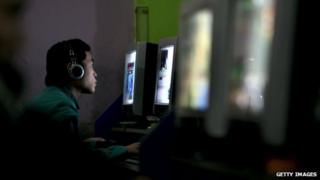 The Chinese Academy of Engineering has disclosed plans to release a new operating system for PCs as soon as October.
It hopes a version for mobile devices could subsequently be released within three to five years.
The news was reported by a paper run by the Ministry of Industry and Information Technology (MIIT).
It follows a decision in May to ban the use of Windows 8 on many Chinese government computers.
The restriction was nominally imposed because of a decree about energy-saving devices.
However, several local reports suggested the real reason was a fear that Windows 8 PCs might be vulnerable to US surveillance.
An MIIT-backed think tank had also voiced concern about the popularity of Google's Android.
In the new report, Ni Guangnan - who heads up an alliance of developers for the academy - noted that "more than a dozen" Chinese companies had opted to customise Google's operating system (OS) rather than create an alternative from the ground up.
These include the country's best-selling handset maker Xiaomi, whose new Miui 6 OS is based on version 4.4.4 of Android.
"Creating an environment that allows us to contend with Google, Apple and Microsoft, is the key to success," he said, adding that the new OS would support app stores.
Chinese systems
This is not China's first attempt to build an operating system of its own.
In June 2000, a company called Red Flag was founded at the Chinese Academy of Sciences. It went on to release a Linux-based OS for desktop and server computers as well as several compatible productivity applications.
The software was used in government departments and schools, but the business collapsed earlier this year after running out of funds.
The country's National University of Defense Technology also developed the Kylin OS about a decade ago.
The system - named after a mythical beast dubbed the "Chinese unicorn" - was designed to be a high-security option for users in government, defence, energy, aerospace and other critical industries.
While the software was recently used on Tianhe-2 - the world's fastest supercomputer - development of a version for consumer PCs has focused on Ubuntu Kylin since 2013.
This is a variant of Canonical's Linux-based OS, which has been tailored for people that use the simplified Chinese writing system and the Chinese lunar calendar.
It was first released in April last year, and its website says an update is due for release in October. It is not clear whether this is linked to the project outlined by Ni Guangnan.
In addition, the Chinese Academy of Sciences unveiled COS (China Operating System) in January - a Linux-based OS for mobile devices that was said to be fully home-grown.
At the time, several bloggers noted it resembled HTC's Sense user interface for Android, leading to speculation that the Taiwanese firm had been involved.
But the academy has denied the accusation.