Woman seeking to crowd-fund abortion has page removed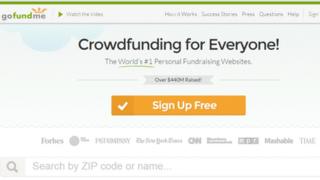 Crowd-funding website GoFundMe has removed a page from a woman seeking to finance her abortion.
Known only as Bailey, the 23-year-old had set up a page to ask for $2,500 (£1,550) to pay for the operation, saying she was having a "rough, unplanned and unexpected pregnancy".
Following complaints, the website said that it no longer wanted to be associated with her campaign.
It has raised questions about how crowd-funding websites should be used.
GoFundMe decided that using the platform to finance an abortion was a step too far.
"In the event that a campaign contains questionable content, GoFundMe will conduct an internal content review to determine the most appropriate course of action. Given the sheer volume of campaigns, each review is handled on a case-by-case basis," the site told the BBC.
"In this particular case, GoFundMe determined that the fundraising campaign titled "Bailey's Abortion Fund" would be removed from the site."
It said that money already raised would be forwarded to her. It is believed that more than 100 people had donated a total of $1,654.
Potato salad
In an interview with Vice that was published before the page was removed, Bailey described herself and her boyfriend, who set up the page as "broke kids who really need to have this abortion".
The pregnancy, which she said was at about 20 weeks, was not going well, she said.
"Sometimes the pain is so bad that I can't get out of bed, and I can't go to the bathroom," she added.
In recent months the limits for what can be crowd-funded has been tested with projects such as Zach Brown's $55,492 raised to make a potato salad or Eric Estrada's attempt to crowd-fund his mortgage.