Android One smartphones released in India by three companies
By Leo Kelion
Technology desk editor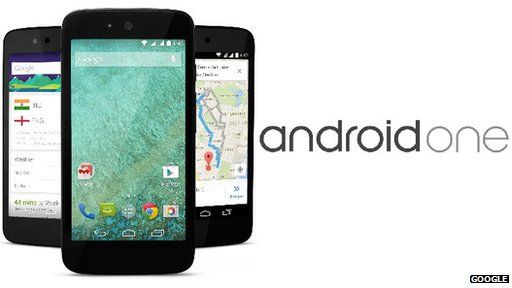 The first Android One-branded budget-priced "high quality" smartphones have been released in India.
The handsets provide a minimum set of features determined by Google, which has sourced several of the components to help cut manufacturing costs.
The company has also teamed up with a local network to make it cheaper to download Android updates and new apps.
Experts suggest the move should help address criticism of earlier entry-price smartphones.
Sundar Pichai, who oversees Android, said the Android One scheme had delivered economies of scale that meant the first batch of phones could be offered for as low as 6,399 rupees ($105; £65) if bought contract-free.
"Our goal was to develop high quality smartphones at an affordable price, with access to connectivity, done at scale around the world," he told the BBC ahead of the launch in Delhi.
"We provide our OEMs [original equipment manufacturers] a menu, effectively.
"They can choose the CPU [central processing unit], the GPU [graphics processing unit], the storage, the type of battery, the type of camera.
"It really saves them a lot of effort in terms of identifying the right hardware [and] doing all the testing you need to do to get the software to run on this hardware.
"We tune it, we work out the bugs… we keep it secure, we update it and so on."
He added the scheme should soon expand to Indonesia, Philippines, Pakistan, Bangladesh, Nepal and Sri Lanka.
There are no plans to launch the handsets in the West, but Mr Pichai did not rule it out.
The first Android One devices are made by Micromax - already India's bestselling mobile-phone maker - Karbonn and Spice.
To meet Google's minimum standards they all have:
a 4.5in (11.4cm) display
1GB of RAM (random-access memory)
a 5MP rear camera and a 2MP front one
a quadcore processor sourced from Taiwanese company Mediatek
the ability to run the next version of Android, due for release soon
In addition, they have been tailored to suit the local market by including a micro-SD (Secure Digital) slot, a replaceable battery, a built-in FM radio and the ability to support two Sim cards simultaneously.
If connected to Airtel - one of India's most popular networks - data used to download Android updates will not be subtracted from a customer's allowance for the first six months. Users can also download 200MB worth of apps from Google Play on top of their data plan.
Google said it had also customised some of its own apps for India, including:
the addition of railway bookings and cricket scores to Google Now's card-based results
an "offline" version of YouTube, so videos can be re-watched without incurring extra data charges after the initial download
the introduction of 13 local publications to Play Newsstand
The handset makers are allowed to add services and wallpapers of their own, but cannot run a "skin" on top of Android that significantly changes the user interface - something manufacturers have commonly done in the past to distinguish their models.
"We want to deliver a consistent experience on these devices," said Mr Pichai, adding this should prevent the devices taking a performance hit or being incompatible with software updates.
About 400 million smartphones will be sold in India over the next five years, according to a forecast by PricewaterhouseCoopers, with the majority bought at Android One's price point.
"A lot of the phones that have been sold in this price zone to date have not been particularly high performance or high quality," said Mohammad Chowdhury, the company's Mumbai-based (Bombay) telecoms expert.
"That's meant the experience for users has been less than satisfactory.
"If Google can start convincing people that the experience of using data will be better on these phones, I think that will result in fairly fast uptake, particularly as word of mouth is quite good in India."
"India and other emerging markets are being targeted by other potentially low-cost platforms," said Chris Green, from the Davies Murphy Group consultancy.
"Google needs to protect Android's market base in these countries, as the low-cost users of today will be the premium users of 10 years time."
Mr Pichai said Google would "constantly evolve" Android One's minimum standards to suit both the needs of future software and the tastes of the various markets it launched into.
He added that handset makers Lenovo, Acer, HTC, Asus, Panasonic and Alcatel had recently joined the programme along with the chipmaker Qualcomm, all of which would launch devices at a later point.
That leaves the bestselling Android handset-maker, Samsung, as a notable holdout.
Even so, Mr Pichai said he expected the company would play a "huge role" in helping offer Android to the "next four billion users".
Related Internet Links
The BBC is not responsible for the content of external sites.