Kim Dotcom election defeat: 'My name was poison'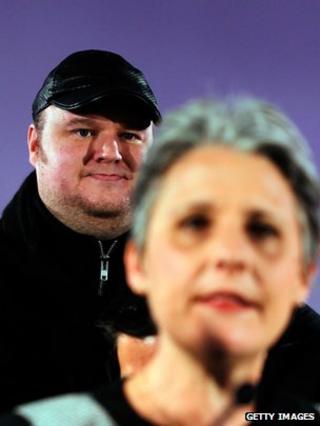 Technology millionaire Kim Dotcom has apologised for his party's failure in New Zealand's general election.
His Internet-Mana Party failed to win a seat, as Prime Minister John Key's National Party increased its majority.
"The brand 'Kim Dotcom' was poison for what we were trying to achieve," the German-born entrepreneur said.
He is facing possible extradition to the US over MegaUpload, his storage website the US says was used to host files illegally. He denies all charges.
Mr Dotcom - who lives in a mansion near Auckland - was arrested by armed police in January 2012.
'Good luck'
After being granted bail in February 2012, he launched the Internet Party, a political group that pledged to end government surveillance of New Zealand citizens - a stance buoyed by the allegations made by US intelligence leaker Edward Snowden.
The Internet Party's policies also focused on better internet access across the country.
As a foreign national, Mr Dotcom could not himself stand in the election, and so instead appointed trade unionist Laila Harre as leader.
The Internet Party also formed an alliance with the minor Mana Party, a breakaway group from the bigger Maori Party.
Internet-Mana, as the partnership was named, did not attract enough votes to win a seat, with the Mana Party's leader Hone Harawira losing his seat.
"I'm sorry. I take full responsibility for this loss," said Mr Dotcom after the vote.
In a tweet, he congratulated Prime Minister Mr Key: "New Zealanders have chosen National and John Key to lead. I congratulate the prime minister. Please do your best for all Kiwis. Good luck."
Ms Harre said Internet-Mana would hold a meeting soon to determine how it moved forward after the loss - including its future association with Mr Dotcom.
"That meeting will cover what form our relationship should take over the next three years - that will evolve," she said.
"With the campaign finished, we will rapidly move towards much clearer public leadership of the party by me."
---
Analysis - Dave Lee, technology reporter
Mr Dotcom's fall, rise and fall again provided one of the most fascinating periods in the history of New Zealand politics.
When I visited the sprawling Dotcom Mansion earlier this year to make a film for BBC Click, it was arguably at the height of the man's popularity. He'd won a few crucial court battles related to his copyright cases, and his new website, Mega, was enjoying serious success. It still is.
During my stay he hosted a party for the newly signed up members of the Internet Party, opening up the mansion for a day out and a chance to "Swim with Kim".
It was there I met one of his supporters who, while offering support, said he was worried the whole thing would struggle to become anything other than "the Kim Dotcom Show".
Some of Mr Dotcom's aides suspected the young man may have been planted by an opponent - a gift for TV reporters needing a negative soundbite.
But really that supporter was precisely what Mr Dotcom needed - a sane, dissenting voice in a world seemingly full of yes-men and women. His team was made up of fantastic, hard-working people - but it was by no means unwavering support. They were, like so many in Mr Dotcom's life, along for the ride.
Many suspected that Mr Dotcom's motivation for entering politics was to help him fight his piracy case. If that was the case, it hasn't worked.
As Mr Dotcom's political ambitions ebb away, the criminal charges he faces remain very real.
His next extradition hearing is due to take place in February.
---