Minecraft map of the UK upgraded to include houses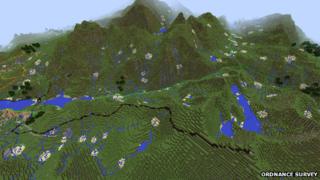 A map featuring the UK made entirely of Minecraft blocks has had an upgrade.
Created by Ordnance Survey (OS), the original map re-created 224,000 sq km (86,000 sq miles) of Britain using more than 22 billion blocks.
The updated version uses 83 billion blocks, with each one representing 25m of real-world British soil, road or grass.
The Minecraft UK map is so detailed that people should be able to find their own house on it.
Ordnance Survey said it would put an interactive map on its main webpage so people could generate co-ordinates to lead them to their home on the Minecraft version.
Game play
Minecraft is a hugely popular video game set in worlds built of blocks that can be mined for raw materials that can then be turned into tools, weapons, armour and other items. Many people just play on randomly generated worlds but others build and share custom-created worlds for adventuring.
The original Minecraft map of the UK was created in two weeks by intern Joseph Braybrook in September 2013. The updated version was also created by Mr Braybrook, who recently started working at Ordnance Survey thanks to a graduate recruitment scheme.
Mr Braybrook said the map had been doubled in scale to make it much more detailed. Mapping tools created by OS staff were used to give it a "more expansive appearance that is closer to real life", he said.
The increase in scale means that woods and forests now have computer-generated trees, tributaries to rivers are visible and motorways, local roads and rail links are all accurate.
"I'm looking forward to seeing if people eventually build a working railway system in-game," said Mr Braybrook in a statement.
OS said it planned to make the one-gigabyte map freely available for download for people to play on. The original map has been downloaded more than 100,000 times, said the OS.
However, it added, its relatively coarse resolution limited what could be done with it. By contrast, said Mr Braybrook, the new version should be easier for Minecraft fans to get to grips with.
"I've attempted to re-create Great Britain to be more realistic, while maintaining the gameplay elements people love from the game," he said.
The map is believed to be the biggest Minecraft map made using real-world geographic data.