Patients' online diagnoses not useful, say doctors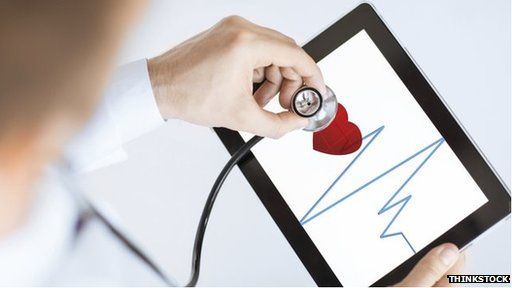 More patients are going to their GP and telling them what treatment they need based on information from apps and the internet, a survey has suggested.
A third of the UK physicians surveyed said patients would come with suggestions for what prescription they should receive.
Fewer than 5% of doctors felt it was helpful.
Major technology firms such as Apple and Samsung are investing heavily in tech that can monitor a user's health.
The survey of 330 UK physicians - 300 of them GPs - was carried out by Cello Health Insight, a medical market research firm.
"Doctors have witnessed an explosion in the quantity and quality of information now available to them and their patients via digital media and technology," said Dan Brilot, the company's digital director.
"Consumers are increasingly seeking out information (and technological tools such as fitness and health apps) to provide as much information as possible before - and after - consultation."
However, doctors were finding technology useful for their own needs. Specifically, Cello's survey said three-quarters of those surveyed turned to the internet for research on conditions.
Many GPs would also use the internet to share new information with colleagues.
While self-diagnosis was proving troublesome, most of those surveyed did advocate the use of technology for general monitoring.
More than half said apps designed to make sure treatment is taken or administered correctly are useful.
The apps could help diabetics keep a check on their blood sugar and patients monitor their own blood pressure.