Game on - e-sports takes off in the UK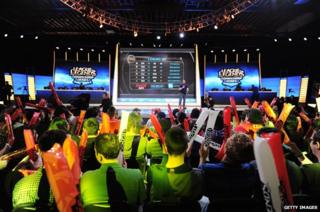 Next weekend, the World Cup Final takes place in Seoul in front of 60,000 spectators and a huge global TV audience. No, I'm not confused and this is not football. The contest in question pits Korea's Samsung White against China's Star Horn Royal Club and what they are playing is a video game called League of Legends.
E-sports, where game play is watched by audiences in stadiums and on TV, have been big business in the Far East for more than a decade. But now, as I found out in a report for Friday's World at One on Radio 4, the phenomenon is really taking off in Britain.
If UK e-sports have an Alex Ferguson equivalent then it's Michael O'Dell - but then as the owner and manager of Team Dignitas he's also the sport's Roman Abramovich. O'Dell was once a semi-professional games player himself, then built a team of 58 professional players based around the world. "It's gone from playing in our bedrooms, earning twenty quid in a tournament - and we were happy - to now where we could be earning a million dollars in a tournament, and that's not just one a year, there are a lot of tournaments with a lot of prize money." On top of that, the team has lucrative sponsorship and merchandise deals.
He still lives in a modest home in Surrey with an office in the back garden from where he keeps tabs on his players. We watched as his star player Michael Santana - a gaming celebrity who goes by the name "Imaqtpie" - talked his fans through a session of League of Legends from the Team Dignitas Los Angeles base.
Streaming on Twitch TV he had attracted an audience of more than 14,000 fans just to watch him practice. Even between tournaments, that earns Imaqtpie a lot of money, upwards of ten thousand pounds a month just from the adverts that appear on his Twitch channel.
It is the huge popularity of San Francisco based Twitch, recently acquired by the online retailer Amazon, that has helped fuel the growth of esports around the world. The service allows anyone, amateur or professional, to become a broadcaster, talking to their friends or a global audience as they play games.
Jon "Carnage" - his streaming name on Twitch - started as just one performer on the channel and is now director of content. He says it is changing television:"For so many years TV has just been one-sided where you view a show as opposed to being a part of a show. Twitch bridges that gap between you and the host - you can talk directly to them."
I caught up with Mr Carnage at London's EGX games show, where Twitch had a sizeable operation. In another corner of the Earl's Court exhibition centre I came across a rather smaller business which hopes to be Britain's biggest e-sports promoter.
Gfinity had put on a more modest League of Legends contest than the one taking place in Seoul, with amateur teams and a couple of commentators trying to whip up some excitement amongst the small crowd of onlookers. But Neville Upton, who runs Gfinity, says the potential in the UK is massive: "You've got 16 million people playing games. What's interesting is that they're not just playing, they like watching as well. We had over eight million watching online during our recent tournament at the Copper Box on the Olympic Park."
And for the first time teenage gamers in the UK are wondering whether they might make careers as professional gamers. The latest signing at Team Dignitas is 17-year-old James "Greensheep" Luo from Blackpool. Michael O'Dell spotted him playing a relatively new game called Hearthstone and winning a tournament in Europe.
As I watch James playing on his Twitch channel (in front of a tiny crowd compared to those watching Imaqtpie) a sign pops up saying $100 (£62) has been donated. Michael O'Dell explains that well-wishers often donate money to favourite gamers just to show their appreciation of their talent.
James isn't making a living from games yet - in fact he's still at school and puts in hours of practice after finishing his homework. "I just practice, practice practice, learn more about the game and try to get better," he tells me. "I think every gamer's ambition is to make this their full time job. I guess that's my dream as well."
British players are yet to join the e-sports elite who can earn millions. But who knows - maybe in a few years time someone like James Luo will be competing in an e-sports World Cup final in front of a huge global audience. That may be far-fetched - then again it might be more likely than seeing our footballers make it to a final.