'Shazam for birds' app set for spring launch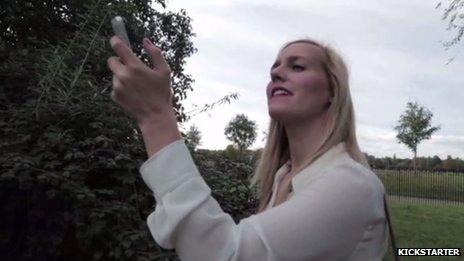 An app that can automatically recognise bird sounds is to be launched in time for spring, its creators have said.
Warblr has been developed by two scientists using a grant from Queen Mary University of London.
They hope to raise more money in a crowdfunding drive but, after tests with the BBC that suggested problems, admitted there was still work to do.
In three separate attempts, the app was unable to correctly identify the bird in question.
"It is not perfect... this is obviously very new technology, so we have a bit of work to do still," said Warblr's co-founder and chief executive Florence Wilkinson, who demonstrated the app to BBC producer Jat Gill.
The app works by identifying a recorded sound and returning a list of the most likely results, with percentage weightings indicating their respective levels of likelihood.
In the first test, Ms Wilkinson recorded a canada goose. But she said that interference from a "screaming child" caused the app to misidentify the calls as those of a crow, with the correct answer in second place.
"Bearing in mind it had quite a lot of background noise in there, I think that's a pretty good result."
In test two, she tried to identify a moor hen and some coots. "I don't know if we can count that as a victory because [the coot] came up as the last result [on the list], although they are all pretty close," she said.
"We've got a few that are clearly wrong there, we've got the black-tailed godwit, a fieldfare, for example. The bottom result that we've got at six per cent is the coot, which is actually the bird that was making the noise."
The final test was more successful in picking out the same species, with the coot listed second - not first, again. "I'm pretty pleased with that."
Dan Stowell, a Queen Mary University of London academic and one of Warblr's co-founders, developed the technology on which the service runs. He said the app was similar to the music-recognition service Shazam.
"It's really surprisingly difficult to recognise automatically any particular bird, what species it is, because a single species can make a different sound, depending on the time of day, depending on how old it is, depending on whether it is mating or not," said Mr Stowell, who is an expert in natural sciences.
"If you think about the challenge of trying to recognise 'which music recording is this?' it's exactly the same recording every time, whereas, here we are trying to recognise a general category of bird sounds."
He said the system used "machine learning" to take examples labelled by the developers and learn to generalise from them.
He said the app was able to recognise 88 species, covering most common birds in Britain, plus some less common ones.
Mr Stowell said the technology had other possible applications, including recognising genres and emotions in music, and could also be adapted for bird species in other countries.
The pair plan to raise £50,000 towards their planned spring launch using the crowdfunding website Kickstarter. At the time of writing, they had raised more than £1,100.
Although other apps, such as Bird Song ID, which can recognise and identify bird calls exist, Warblr's developers claim its database is significantly larger.