Manuel Noriega case against Call of Duty is dismissed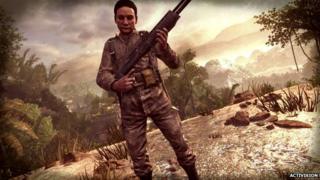 A judge has dismissed a legal action brought by Manuel Noriega, the former dictator of Panama, against the publisher of the Call of Duty video games.
The ex-military ruler had tried to sue Activision after a character based on him featured in the title Black Ops II.
Noriega had sought damages.
But the judge at Los Angeles Superior Court ruled that the inclusion of the character was protected under free speech laws.
"This was an absurd lawsuit from the very beginning and we're gratified that in the end, a notorious criminal didn't win," said Rudy Giuliani, the former mayor of New York, who had defended Activision in the case.
"This is not just a win for the makers of Call of Duty, but is a victory for works of art across the entertainment and publishing industries throughout the world."
Noriega is currently serving a jail sentence in Panama for crimes committed during his time in power, including the murder of critics.
In the video game, the character based on him initially helps the CIA capture a Nicaraguan terrorist, but later turns on the Americans and is hunted himself in fictional scenes.
In reality, Noriega did work as a CIA informant before the agency broke ties with him. After the US became concerned about his violent rule, President George Bush ordered the invasion of Panama in 1989, which resulted in his capture.
Call of Duty games have featured other real-life characters including Fidel Castro, ex-CIA director David Petraeus and President John F Kennedy, among others.
Activision had warned that had the legal action been permitted to proceed, it could have encouraged other political figures to object to the use of their appearance in films, television programmes and books in addition to video games.
"Today's ruling is a victory for... global audiences who enjoy historical fiction across all works of art," said Bobby Kotick, chief executive of Activision's parent company, Activision Blizzard.