Inflatable baby incubator wins James Dyson Award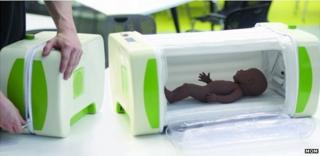 A prototype inflatable incubator for prematurely-born babies has been picked as the international winner of this year's James Dyson Award.
Mom costs a fraction of the price to make than commonly-used alternatives.
The project's inventor - Loughborough University graduate James Roberts - said he hoped the final product would be used in the developing world.
One expert said it should be a good stand-in so long as the babies using it were not too premature.
Mr Roberts said that he had begun work on Mom as part of a final year project inspired by a TV documentary.
"I was watching a Panorama programme on BBC about Syrian refugees, and they had a segment about how there are loads of premature kids dying because of the stresses of war and specifically the lack of incubators out there and the infrastructure to support them," he recalled.
"I thought there has to be a way to solve that."
He added that the £30,000 award meant that he could continue work on the machine, which he now hopes to bring to market by 2017.
Jaundice lamp
The device is designed to be delivered as flat-packed parts that are assembled at their destination.
At its heart is a sheet of plastic containing inflatable transparent panels that are blown up manually and then heated by a ceramic element. This wraps around the interior of the unit to keep a newborn warm.
"When it's opened it won't collapse in on the child and will maintain its shape," Mr Roberts stressed.
An Arduino computer is used to keep the temperature stable, control humidification, and manage a phototherapy lamp that can be used to treat jaundice, as well as sound an alarm.
The electronic components are designed to use as little power as possible and can be run off a car battery for more than 24 hours when mains electricity is not available.
The modular design of the kit allows damaged parts to be replaced without compromising the whole unit. And after the child is taken out of the incubator, it can be collapsed and the plastic sheet sterilised so that Mom can be easily transported for re-use elsewhere.
"Normally with incubators it costs loads to get them anywhere because you need huge boxes to put them in, and that can cost a lot to put on a flight," Mr Roberts said.
"This one can go in a care packages already used for refugee camps."
He estimated that the current prototype would cost about £250 to manufacture, and suggested it would offer a similar level of performance to modern systems that cost £30,000.
'Fantastically elegant'
Mom's design was praised by one of the UK's leading neonatal experts.
"In resource-poor settings, the cold is one of the biggest killers of babies that are born slightly premature," said Dr Martin Ward Platt, a consultant paediatrician at Newcastle's Royal Victoria Infirmary.
"Just being able to maintain a good and stable environment is of enormous importance.
"We mustn't lose sight of the fact you can achieve a huge amount of that simply by keeping a baby in contact with a mother's body. But for a variety of reasons, that isn't always going to be possible, particularly if the mother becomes ill herself.
"And in a refugee camp, where it may be necessary to separate a baby from her mother, this provides a fantastically elegant and cheap solution."
Dr Platt added that normal hospital incubators cost so much because they were designed to cope with babies born with as little as a seventh of the normal birth weight, who would need intensive care for weeks or even months - which Mom is not designed for.
But, the doctor said, doing away with some of the "bells and whistles" in order to "do the basics very well" made sense in situations where expensive kit was not available.
However, he was sceptical of Mr Roberts' suggestion that a version of Mom might end up being stored in ambulances and used in remote parts of the UK to transport prematurely born babies to hospital.
Even so, the inventor suggested that the modular nature of the incubator could make it easy to adapt its parts for different needs.
"I've been approached by a few companies who want to work with me on it, but I have to decide what I want to do," Mr Roberts added.
The runners-up in the competition were:
Qolo - an electric chair that can be controlled by the user tilting and twisting their upper body
Suncayr - a pen with colour changing ink that can be applied to the skin to let the user know when they should reapply sun cream
Bruise - an injury detection suit for disabled athletes