Piracy raid: German police search homes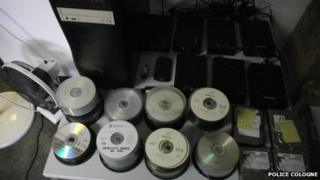 More than 400 police officers in Germany have taken part in a nationwide clampdown against piracy, Cologne's Public Prosecutor has announced.
They searched 121 apartments across 14 states in the hunt for people sharing music and films illegally online.
Officials targeted members of a file-sharing forum called Boerse, who the prosecutor says have uploaded movies, music, software and e-books.
At time of writing the platform itself is still online.
Its terms and conditions warn against the sharing of copyrighted material, but recent uploads include Taylor Swift's new album 1989 and recently released movie Gone Girl.
The German police said some of the suspects in the latest raid were willing to cooperate.
"The investigating authorities are hoping to gain further insights into the piracy scene on the evaluation of the evidence," they added.