Digitised WW1 diaries highlight battle confusion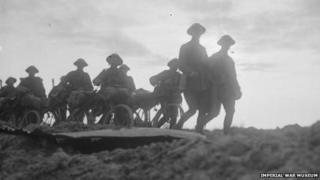 Scrutiny of digitised diaries from World War One have shown how the early days of war were full of confusion about who fired its first shots.
Popular wisdom now holds that Drummer Edward Thomas was the first soldier to shoot on 22 August 1914.
But a field almanac written in the early stages of the war states the first shot happened a day later.
It is one of many secrets being revealed in a project aiming to "extract metadata" from the diaries.
The detail about what was written in the official almanac is highlighted in a diary entry written a year later by Capt Swaine, one of a million diary entries now digitised and being tagged by an army of citizen historians.
He writes that the field almanac from the previous year stated that the first shot fired between German and British forces took place at 12.40pm and August 23rd.
He goes on to dispute this version of events, adding that his own company had "exchanged shots" the day before.
It was "before noon on August 22nd 1915. One German Uhlan [cavalry force] was wounded and his lance captured," he wrote.
Capt Swaine, who headed up the Cyclist Company, made a blunder of his own, writing the date for the field almanac as 1915 instead of 1914 - again illustrating both the confusion of war and the state of mind of troops involved in the conflict.
"These guys were writing things up after a pretty rough day," said Imperial War Museum project manager Rob Livermore.
"The entry illustrates how even the higher-up commanders in the war didn't have a full picture of what was happening."
The inconsistency is just one of the insights being gained from Operation War Diary - a tie-up between The National Archives, the Imperial War Museum and online research website Zooniverse.
It aims to tag up to one million documents in next two years.
"The war diaries were supposed to be written in a very dry, official way, but very often the author's personality comes through and you get a sense of how they're feeling," said Mr Livermore.
One of the most moving entries he has seen was one from a mobile veterinary unit.
"They were camped in a field, when the Germans attacked the unit in the next field over.
"The author describes their withdrawal and drops in snippets about how he wasn't sure they'd be be able to defend themselves if they needed to - they only had three rifles between them, most of the men being armed with old-fashioned cavalry sabres."
Map of fallen
The Operation War Diary project relies on an army of volunteer citizen historians, and so far 11,000 have signed up to scrutinise a range of official war diaries written by officers involved in the conflict.
Some 100,000 documents have been analysed so far.
The volunteers use a series of tags, from simple things such as time, date and weather to more complex ones such as troop movements, encounters with the enemy and mentions of other people and places.
All of the information is helping create a digital picture of the war and has allowed Zooniverse, the online research firm that heads the project, to make a series of maps bringing the conflict to life.
One map annotates where all the British casualties occurred from 1914 to 1918.
Robert Simpson, who heads up Zooniverse, thinks the project is bringing the historical details about the war to life.
"We can make these kinds of maps for everything. We could do one, for example, about the weather.
"It may sound mundane but it has a big effect on the activities of troops and their mood."
The project is also uncovering hitherto unknown information about rations, the hygiene of troops and other minutiae about life in the trenches that has so far not been studied in detail.
"I'm not sure a historian would use it as a resource but it would be great for schoolchildren," said Mr Simpson.
And it could prove an invaluable resource for those wanting to trace relatives involved in the conflict.
"Our citizen historians are uncovering all sorts of First World War stories all the time," said Mr Livermore.
"One of the most important things for us is preserving the names we find in the diaries.
"We try to tie this in with Imperial War Museum's Lives of the First World War, a digital memorial where people can build up a life story of all those who fought or contributed in any way during the First World War."