Virtual reality aids BAE warship design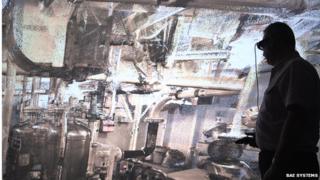 Virtual reality technology is being used in the construction of Royal Navy warships in a bid to build them more cheaply and efficiently.
Engineers at BAE Systems, the firm contracted to build vessels, are creating virtual versions that can then be examined in detail before any actual steel is cut.
Previously engineers had relied on wood or cardboard mock-ups of ships.
The system is currently being used to develop three offshore patrol vessels.
BAE Systems hopes the technology system will become a fundamental part of the engineering process.
"Visualisation technology is transforming the way we design, build and deliver complex warships," said Mick Ord, managing director at BAE Systems' Naval Ships business.
"By creating a virtual prototype, we can mature and optimise a ship's design and gain a real understanding of the vessel and the experience of those serving on board before manufacturing begins."
The system has been installed in three sites - Glasgow, Portsmouth and Bristol.
Visualisation suites with huge screens allow engineers, equipped with special glasses and a controller, to walk around the computer-generated ships and inspect the innards of the vessels to see whether there are any potential issues with the design.
Howard Wheeldon, an independent defence analyst said that the system had a lot of benefits.
"There are a lot of people involved in ship design so to be able to do it this way is absolutely brilliant and should be the way forward in other areas of engineering," he said.