Tech Tent pitches up at Ireland's Web Summit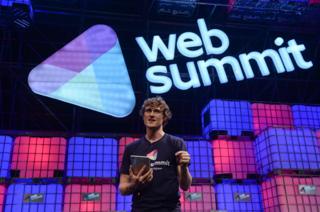 Ireland has been the hottest place in the tech world this week.
In Dublin the three-day Web Summit attracted huge crowds, and today in Cork a collection of top tech entrepreneurs have arrived via steam train for a conference called F.ounders. We are broadcasting our weekly radio programme Tech Tent from a whisky distillery in Cork, where we hope to have some sober reflections on the state of the technology world from some of the pioneers.
Both of these events have been created by a hugely energetic young Irishman called Paddy Cosgrave. It was in 2010, with Ireland still reeling from the impact of the financial crisis, that he decided to gather a few technology entrepreneurs for a weekend of fun and a pub crawl around Dublin.
Word got round that this was a much more relaxed affair than most tech events, and it has since grown at an amazing pace. The separate Web Summit for a wider audience attracted 22,000 visitors and companies ranging from tiny Polish software start-ups to Coca Cola and Audi. It is estimated to have put £100m into Dublin's economy this week - and has also been a great marketing tool for Ireland's technology cluster.
Right now, with the spotlight on the extremely generous Irish tax arrangements that brought companies like Apple to Ireland, it looks as though the incentives to invest here could be on the wane. But when I catch up with Paddy Cosgrave amid all the hubbub of the Web Summit, he insists that Ireland's tech strengths are about more than tax.
"When businesses like Dropbox and AirBnB are looking for a European base and need senior managers, they can hire them here. And that's because the likes of Google have already been here for 10 years, and have persuaded some of the best people from all over Europe to come to beautiful Dublin."
At a time when all tech talent still seems to gravitate towards Silicon Valley, there is a surprising amount of optimism at the Web Summit about the potential of Europe as a location for entrepreneurship. And I come across a couple of French entrepreneurs who believe that their own country - looked on by many as a bureaucratic graveyard for start-ups - is not so bad after all.
Withings, the French connected hardware business with idiosyncratic products such as wifi scales, is using the Web Summit to launch a smartwatch with a difference. The Withings Activite looks like a quite classy analogue Swiss watch - which indeed it is. All the smart stuff pops up on a phone app, rather than on the watch face, and that means the battery lasts for eight months.
The Withings CEO Cedric Hutchings tells me France had advantages in wearable tech. "We have strong assets - great engineers and great designers and a tradition with fashion that is going to be more relevant for consumer products that need to be accepted for the long term."
Keecker, a smaller French company, is showing off a robot called HomePod, which roams around your home projecting a computer desktop on any surface and delivering a mobile sound system. A somewhat eccentric idea but one that has already raced past its funding target on Kickstarter. The company's founder Pierre Lebeau, a former Google engineer, is sanguine about operating out of Paris.
"The French environment for hardware is amazing," he tells me, "and the government is not so bad." He goes on to explain that Silicon Valley, by contrast, is a very expensive place to hire staff - they all demand free food and other benefits and then leave after six months.
We will be discussing the best place to start your tech company, along with plenty of other hot topics on this afternoon's Tech Tent.
Tech Tent is broadcast at 1630 GMT on the BBC World Service - or catch up on on BBC iPlayer or the podcast.