Porn stars demand Google's help to combat piracy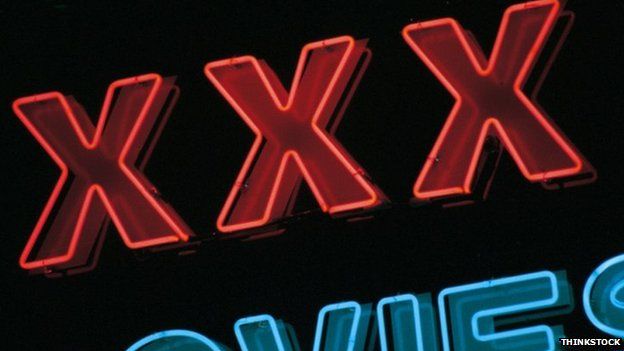 Porn stars and studios have called on Google to help publicise legal ways to buy adult content in an effort to combat piracy.
Prominent industry figures said they deserved the same measures as those recently introduced to publicise legitimate music and film sites.
"Google continues to discriminate against the adult industry," actress Angela White said.
The search giant told the BBC it did not want to comment on the concerns.
It recently struck a deal with the music industry in the UK to show links to legal ways to buy music more prominently than before.
Record labels had long complained that a search for something such as "Ed Sheeran album" would offer up piracy links ahead of legitimate sites.
A number of influential figures in the porn industry have told the BBC they want the same kind of deal. At present, the online adult industry is not allowed to buy advertising space on Google's network.
"Google is perpetuating the misconception that the adult industry is not a legitimate industry," said Ms White.
"The adult industry is run like any other professional industry; we pay taxes, create jobs and contribute to the economy.
"How many times a day is the word 'porn' typed into the Google search interface? Mainstream corporations like Google continue to discriminate against the adult industry despite the world being genuinely interested in seeking out pornography."
Studio owner Tasha Reign, also an actress, said Google was "still treating the adult industry as taboo".
"Our whole industry has been turned upside down due to the stealing of adult content.
"By working with adult companies, Google could ensure the content that is seen contains age restrictions, unlike pirated content."
Google told the BBC it would not comment on any aspect of this issue.
Changes to "promote" pornography, in any form, could be of concern to politicians pushing for tighter rules on online content.
Worries over children accessing pornography have led to calls in the UK for age restriction barriers on all adult sites - but critics say such a policy is difficult to enforce as most sites are based overseas.
Additionally, major internet service providers (ISPs) in the UK must give the option for all adult content to be filtered at network level - although a study by watchdog Ofcom suggested that fewer than one in seven households chose to do so.
The studios complain that the popularity of "tube" sites - websites that offer free videos in a YouTube-like fashion - has had a significant effect on their revenue.
Like YouTube, most high-profile porn tube sites provide a way for content owners to request the removal of illegal content.
But smaller studios argue it is difficult to keep across what is being posted.
"You can't have your eyes on every single tube site," said Tasha Reign.
However, other industry figures conceded that making people pay for porn was a challenge.
"Studios do have to convince consumers why they should pay and make that transaction easy," said Nate Glass, who runs Takedown Piracy, a company that helps firms issue copyright notices to websites.
"But it doesn't help when consumers can't find those pages because they're on Page 10 of Google after the 100 or so most egregious pirate sites in the world."
The president of Girlfriends Films, who is known simply as Moose, said the concerns of the adult industry were not being taken seriously because of the nature of the content.
"Society doesn't view sex workers as people, but rather commodities," he said.
"It's a mentality that has to change, not just because of piracy, but for the good of society as a whole.
"Pirating adult content hurts real people, from the women and men in front of the camera, to the editors, office workers, and adult shop employees."