Topless sunbather photographed by estate agent drone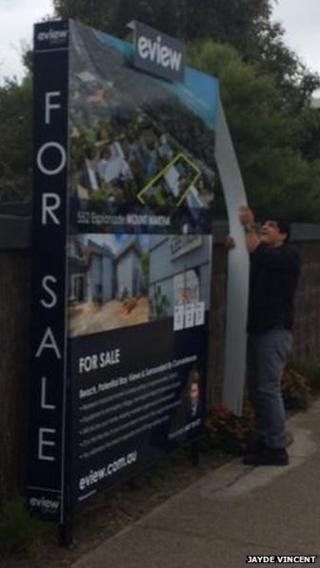 An Australian estate agent used pictures taken by a drone to market a property without realising they included revealing images of a neighbour.
Mandy Lingard, who was sunbathing in her back garden wearing just a thong, said she realised only when she saw an advertising board near her home.
The company, Eview Real Estate, has now removed the offending images.
The commercial use of drones is legal in Australia if authorised.
The Australian Civil Aviation Safety Authority licenses commercial drone flights subject to certain conditions and detailed flight plan approval.
"Images of Miss Lingard were not used intentionally, it was merely an oversight and Eview Group have put into place systems and procedures to ensure that such instances do not occur in the future," the firm said in a statement.
Ms Lingard, 50, told the Herald Sun she was embarrassed.
"I heard a noise and then I saw this odd thing flying around and thought it was a kid's toy. It hovered around and luckily I was face down at the time," she said.
A billboard then appeared outside the property for sale.
"Then a couple of weeks later I walked out my door and thought, 'Oh my God that's what it was doing - taking photos.'"
Rules around flying the small unmanned aircraft vary from country to country but in general there is little legislation in place - with the exception of the US, where the use of drones for commercial purposes is almost entirely banned.
A House of Lords committee in the UK heard from the Metropolitan Police yesterday that it believes there are people being "harrassed" by drones in Britain.
More people certainly seem to be seeing them in daily life.
'Slightly eerie'
Simon Collister from Peterborough saw a drone hovering in a residential street near his son's primary school in July.
"I was with my wife, we'd just collected my son from school, and we heard this really high-pitched buzzing as we were walking down the road," he said.
"I looked up and it was almost immediately above us - perhaps at lamp-post height. It was no bigger than a dinner plate. It just looked like an off-the-shelf drone.
"We probably spent two or three minutes watching it, then it suddenly lifted up and took off over the rooftops," he added.
Current regulations state that the operator of a drone must be within eyesight of it but Mr Collister, a lecturer at University of the Arts London, said that he could not see anybody nearby who appeared to be flying it.
He said his wife wondered whether it was monitoring the controlled parking zone outside the school but Peterborough City Council told the BBC it does not own or use drones.
"It felt quite disturbing, slightly eerie," Mr Collister said.
"As an academic and consultant in media and technology, I've researched the current rules on using drones in the UK and it seems the person using this drone wasn't necessarily in explicit breach of the regulations.
"And even if they were, I don't see how the CAA [Civil Aviation Authority] would be able to find them and enforce the rules."