'Counterfeit' domains seized by Europol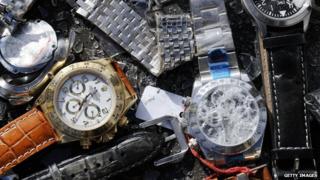 Police forces across Europe have seized 292 web domains that were being used to sell counterfeit goods, according to Europol.
The sites were selling luxury goods as well as "sportswear, electronics, pharmaceuticals and pirated goods like movies and music".
Visitors trying to reach the sites will now be shown a page "educating" them on copyright crime.
The BBC understands that no arrests were made during the operation.
However, a source close to the investigation said it was possible that arrests would be made soon - using the site closures as a means to track down those responsible for the physical counterfeiting of goods.
'Growing problem'
Europol wanted to act quickly, the source said, to minimise the sites' custom in the run-up to Christmas.
"Counterfeiters take advantage of the holiday season and sell cheap fakes to unsuspecting consumers everywhere," said Bruce Foucart, acting director of the National Intellectual Property Rights Coordination Center, which assisted in the action.
"Consumers need to protect themselves, their families, and their personal financial information from the criminal networks operating these bogus sites," he said.
The 292 seized domains did not necessarily equate to 292 closed websites as many domains can point to the same operation. It also does not close the website itself, instead just the domain pointing to it, in theory making it harder to access.
Europol said the total number of domains seized in this way was now 1,829 since the initiative - dubbed In Our Sites - was launched in November 2012.
"The infringements of international property rights is a growing problem in our economies and for millions of producers and consumers," said Rob Wainwright, director of Europol.
"Europol is committed to working with its international partners to crack down on the criminal networks responsible for this illegal activity."