Evidence by late Steve Jobs to be used in music trial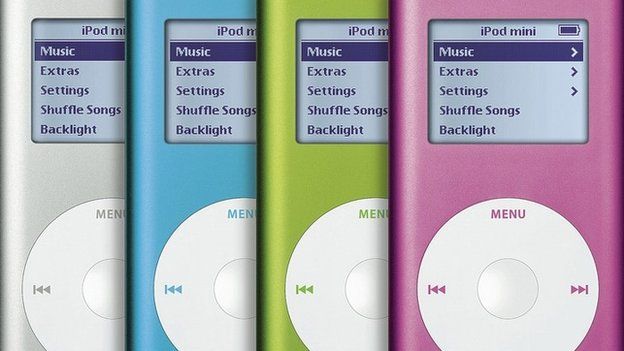 Apple is heading to court to defend itself against allegations that it abused its dominant position in the digital music player market.
Individuals and businesses who brought the case argue that a 2006 update to digital music store iTunes unfairly blocked any device other than the iPod from accessing songs.
Apple has so far not commented on the case.
Video of late founder Steve Jobs will be used as evidence in the trial.
Emails sent by Mr Jobs are expected to be shown alongside the short deposition, filmed six months before he died.
The case, due to be heard in a Californian court later today, has dragged on for nearly a decade.
Lawyers representing consumers and electronics retailers will claim that Apple used its iTunes software to force buyers to use iPods instead of rival devices between 2006 and 2009.
They will claim that shutting out other devices artificially inflated the price of iPods. They are seeking $350m (£222m) in damages, which will be automatically tripled under federal anti-trust laws.
Apple is likely to claim that the economic argument about inflated iPod prices is flawed. It will claim that its iPod prices were set without reference to rivals. In 2006, rival RealPlayer had less than 3% of the online music market.
Apple's iTunes store was launched in 2003. Songs sold through the online store were encoded with digital rights management (DRM) software to prevent unauthorised copying.
Known as FairPlay, the code meant that songs purchased from iTunes could not be played on competing devices such as Microsoft's Zune and Diamond Multimedia's Rio. It also meant that songs from rival online stores could not be played on iPods if they used their own DRM (digital rights management) protection.
Attempts by rivals to introduce coding that would allow songs from other stores to be played on iPods were blocked by Apple.
The code was removed from iTunes in 2009.
The hardware giant has been embroiled in several legal wrangles over the last year.
In July, a New York federal judge found Apple liable over allegations that it colluded with publishers to drive up the price of e-books. It is currently appealing against the ruling.
In April, it was one of several tech firms that agreed to settle claims that they colluded to keep salaries lower by agreeing not to poach workers from rivals.