EE plans micro-network for UK mobile not-spots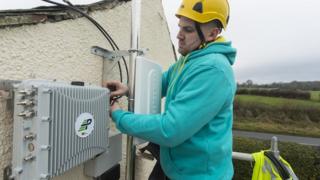 Mobile operator EE is planning to connect 1,500 rural "not-spots", using small antennas that can be attached to any building.
So-called micro-networks eliminate the need for underground cables or large masts.
The technology has been tested in Cumbria and will be rolled out more widely from 2015.
The move could placate the government, which is keen to see operators helping solve rural mobile connectivity.
"We've been working closely with government on the long-term ambition to bring voice coverage to more of the UK, and we believe that this world-first technology will demonstrate significant advancements against that vision," said EE chief executive Olaf Swantee.
Over the next three years, EE will use the technology to make voice services as well as 3G and 4G mobile data coverage available to communities struggling with connectivity.
Unreliable mobile and broadband
The technology is a fairly old one - the concept of mesh networking has been used by wireless internet service providers in the past although issues with power and the cost of connecting to the wider network have previously limited its usefulness.
"The key will be whether the links between the mesh points are able to cope with heavy use of the 4G network and whether the pricing is such that it makes it accessible to the average user," said Sebastien Lahtinen, from broadband news site ThinkBroadband.
The type of technology EE is using is designed by Parallel Wireless and will be able to connect communities of between 100 and 150 across an area of 0.5 sq miles (1.3 sq km) with three or four antennas.
The first community to test the technology is the village of Sebergham in Cumbria, which has 129 dwellings and 347 residents.
It sits in a deep valley, making connectivity a daily struggle.
"The mobile service here is either non-existent or spasmodic at best," said Cumbria county councillor Duncan Fairbairn.
"And the broadband is incredibly slow and very unreliable. In rural communities like Sebergham, being connected to good, reliable mobile coverage can make a significant difference to everyday life, and we need fast broadband."
The government is keen to solve the problem of dropped calls and unsent texts and is currently considering the idea of making operators share 2G networks as a way of solving it.
For their part, the mobile operators have promised to invest millions of pounds in their networks in order to avoid network sharing.
Matthew Howett, an analyst with research firm Ovum, thinks EE could be attempting to woo government with its latest plan, which could prove a good tactic.
"The added benefit of the micro-network of course is that it also extends the reach of mobile data, which of course the governments proposals don't.
"That has to be an attractive proposition and will certainly get the government's attention," he said.