UK broadband services still patchy, Ofcom reveals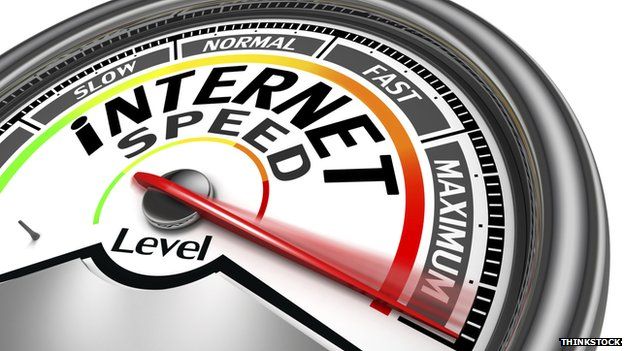 Ofcom, the UK's telecoms regulator, says fixed broadband connections are now "almost universally available" throughout the UK.
But it admitted that 3% of premises do not have basic broadband of 2Mbps.
And 15% can't receive 10Mbps - the usual requirement for a typical household these days.
There is also a huge gap between the minimum and maximum broadband download speeds available in Britain, Ofcom finds, with some premises receiving just 0.1Mbps and others 350Mbps.
About 18% of households don't bother with any home internet access at all, Ofcom said.
"Things are improving," says Andrew Ferguson, editor of the Think Broadband website, "but there is still a huge gap between the haves and the have-nots.
"About three to four million households still don't have access to superfast broadband, while others don't realise it is available in their area."
The regulator has also launched an interactive map allowing consumers to assess the level of broadband, mobile and TV services in their areas and compare this against UK averages.
The government's aim is to deliver superfast broadband to 95% of UK premises by 2017 - a target the regulator describes as "aggressive".
While superfast broadband of 30Mbps is now available to 75% of premises, just 21% have taken it up, Ofcom said.
Consumers and businesses in rural areas are still under-served, the report concludes, largely because of the expense of providing high-speed networks in areas of low population.
If the length of fibre cable from the household to the nearest junction cabinet is too long, download speeds of 30Mbps are not possible.
But technologies are being developed to rectify this issue for remote households.
Small businesses also lose out compared with households when it comes to access to superfast broadband, says the report.
And with average UK upload speeds of just 3Mbps, business applications such as video conferencing and large file sharing, can become difficult.
As more people rely on their mobiles for voice calls and broadband penetration increases, network providers will increasingly move towards voice-over-broadband services, Ofcom believes.
This could ultimately lead to "the switching off of the traditional landline network", known as PSTN - public switched telephone network.
About 16% of households already have no voice landline, relying on mobile for calls.
But as with broadband, fast 4G mobile services are not evenly spread throughout the country, and vary a lot depending on where people are trying to ring or connect from.
For example, for people in cars, 4G is not available at all in 71% of areas.
While nearly three-quarters of premises have access to 4G, only 35% are served by Vodafone, O2 and EE, said Ofcom.
EE has the best outdoors coverage, reaching 68% of the country, it said.
As mobile use and connectivity speeds grow, so does data usage, up 53% between 2013 and 2014.
But mobile data usage - at 0.5 gigabytes (0.5GB) a month - is still tiny compared to fixed broadband usage, currently 58GB a month on average.