Pirate Bay 'copy' goes online after shutdown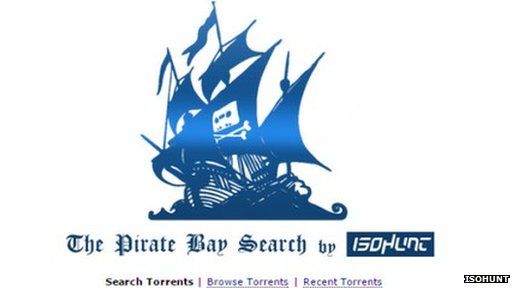 Isohunt, a website providing access to mostly pirated material, has cloned the database of its competitor, The Pirate Bay, after it was shut down last week.
The cloned site is online and fully functioning, according to users.
The Pirate Bay, one of the world's most visited websites, has been closed since a police raid in Sweden last week.
Isohunt, which was banned in the UK last month, says it made the move in order to "save the Freedom of information on the Internet".
If The Pirate Bay returns, the cloned site will be taken down, Isohunt added.
The Pirate Bay offered an expansive list of links to pirated content including films, TV shows and music.
The Swedish police carried out a raid near Stockholm last week, seizing servers from The Pirate Bay following an investigation which had lasted "years", the force said.
While its founders have already been convicted of copyright infringement offences and some have been jailed, the site has proved difficult to close down permanently.
In 2012, The Pirate Bay changed its structure to make itself more portable and easy to clone.
When he heard about the raid last week Peter Sunde, one of the site's original founders, said that he did not like what the site had become.
"The site was ugly, full of bugs, old code and old design," he wrote in a blog post.
Mr Sunde went on to criticise the explicit nature of the adverts which appeared on it.
"It never changed except for one thing - the ads. More and more ads were filling the site, and somehow when it felt unimaginable to make these ads more distasteful they somehow ended up even worse."