Deal forcing Microsoft to offer browser choices ends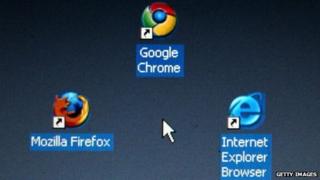 A requirement for Microsoft to offer new Windows users in Europe a choice of web browsers has ended after five years.
Called the browser ballot, it gave non-Microsoft browsers as much prominence on Windows as Internet Explorer (IE).
The requirement was drawn up in 2009 after Microsoft's rivals complained the software giant's bundling of IE with Windows gave it an unfair advantage.
About 70% of people used IE in 2009 but its market share has since declined.
Estimates from browser analysis companies suggest that IE is now used by between 20 and 25% of all people going online from a desktop PC. Google's Chrome browser, first released in 2008, is the most popular with a 50% share and about 20% of people use Firefox.
The browser ballot was only seen in Europe on new PCs running Windows XP, Vista and 7 and on machines where a fresh copy of those versions of Windows was installed.
The European Commission said offering people a choice of browser had proved successful and that in its first eight months 84 million browsers were downloaded via the choice screen.
Microsoft was threatened with heavy fines if it did not properly implement and maintain the ballot. It was hit with a 561m euro (£441m) fine in March 2013 because it failed to include the ballot screen on Windows 7 Service Pack 1 for 14 months.
The browser choice system was agreed on 16 December, 2009 and was first seen on copies of Windows in March 2010.
News about the ending of the ballot emerged from a service update Microsoft posted to its support site. In that note it gave advice to system administrators about how to turn off the ballot screen.