Spyware use in domestic violence 'escalating'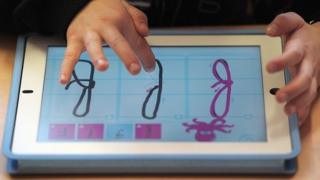 Stalkers and abusers are increasingly using cheap spyware to monitor and harass their victims, claims a charity.
Tracking and listening devices, often disguised as everyday objects, retail online for under £50 and are easy to install, says the Digital-Trust.
There are no official figures but "digital abuse" is often experienced by victims of domestic violence, it adds.
People with abusive partners should also be wary of gadgets given to their children, the charity warns.
"Eighteen months ago I issued advice to domestic violence groups about fathers gifting smartphones or even allowing them to take them on access visits because it is so easy for abusers to use them as surveillance," said Jennifer Perry, chief executive of the newly formed Digital-Trust.
"I recommend children are given inexpensive pay as you go phones when visiting an abusive parent."
Ms Perry said incidents of digital abuse - ranging from surveillance to accessing voicemails, emails and cloud accounts, is escalating in the UK.
In addition cheap surveillance devices - small GPS trackers, listening devices and cameras hidden inside books, lamps, plug sockets and carbon monoxide detectors, are freely available online despite some of them being illegal.
"If I have a domestic violence victim I assume there will be some type of digital abuse - it's not the exception, it's the assumption," she told the BBC.
Ms Perry added that in her experience it is more likely to happen to female victims.
"I get a lot of criticism for saying it but I don't see this level or type of surveillance used against male victims," she added.
"I see men using it against women. It is rare to see a man targeted surveillance-wise by women."
Ms Perry began working in the field of e-crime in 2005. She said that often victims need very specific advice, which is not easily available.
"Safety advice is often done by topic but if you don't know what you're looking for it doesn't help," she added.
"We'll ask a series of questions that deal with the symptoms - are you being harassed by your partner? Is he showing up where you are? Has he had access to your house or your PC?"
Smartphone owners may have not set up their device themselves so may not know what has been installed on it, she added.
"The main thing I try to do is stop any form of data leaking. That's my number one objective," Ms Perry said.
"If you have a stalker and they get access to some information about you it's like the rush they get from a gambling addiction.
"You're taking about jealous or obsessive personalities. One stalker Googled a colleague of mine 40,000 times in a year. Another looked at someone's Facebook page 2,500 times in one month."