Uber 'truly sorry' for price rise during Sydney siege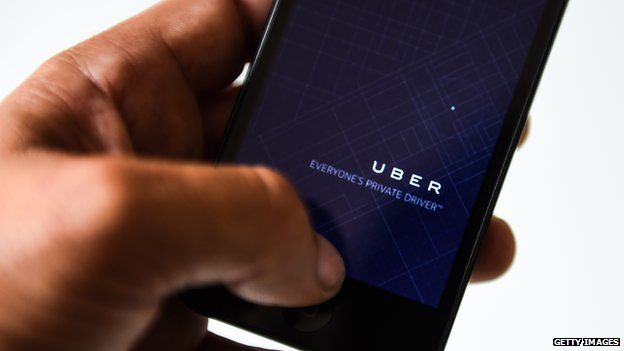 Taxi booking firm Uber has apologised for raising fare prices during a deadly cafe siege in Sydney last week.
Its "surge pricing" algorithm increased fares during the peak period as people rushed to leave the area.
Meanwhile in South Korea, prosecutors have charged the firm with running an illegal taxi service.
They have accused Uber's chief executive Travis Kalanick, along with the firm's South Korean business partner, a local car rental firm.
Car rental firms in the country are banned from running taxi services with their own vehicles.
It is the latest in a string of legal challenges around the world to the rapid expansion of Uber, whose smartphone app lets a passenger hail a taxi while simultaneously letting the driver calculate the fare.
On the day of the Martin Place siege in Sydney, Uber came under heavy criticism on social media for raising its fares, so it started offering free rides out of the city.
It also said it would refund the cost of the rides that had been affected by the higher fares.
"The events of last week in Sydney were upsetting for the whole community and we are truly sorry for any concern that our process may have added," Uber said in a blog post on Tuesday.
"We didn't stop surge pricing immediately. This was the wrong decision."
The 16-hour siege ended with three people dying, including the gunman Man Haron Monis.
The company said that its priority was to help as many people get out of the central business area safely, but that was "poorly" communicated, and led to a lot of misunderstanding about its motives.
"This [surge pricing] encourages more drivers to the area where people are requesting rides," when demand outstrips the supply of cars on the road, Uber said.
Uber has defended its surge pricing strategy in other cities, but reached an agreement with regulators in the US to restrict the policy during national emergencies.
Analysis: Dave Lee, technology reporter
The way Uber works is simple.
Drivers - who need a private hire licence - use their own cars. Once signed up, they use the Uber drivers' app to receive bookings, a process which replaces the traditional minicab office.
Riders, meanwhile, are able to use the riders' app to virtually hail an Uber car, and can track its location as it weaves and bobs through city streets.
After the ride, Uber calculates a fee based on distance and time, and it is paid directly through the app - no money changes hands in the car.
So far, so good. But Uber has faced a lot of criticism.
First, there is "surge pricing". Designed to get more drivers on the roads during busy periods, surge pricing means the fare is jacked up by two, three, sometimes four times the normal fare.
The app has also suffered at the hands of both traditional taxi firms and regulators in cities the world over.
In London, black cab drivers strongly argue that the Uber app is essentially a meter and is therefore breaking strict rules.
To become a black cab driver with a meter, a long, expensive and notoriously difficult test must be passed.
Uber drivers do not need to do this, giving an unfair advantage, cabbies say.
In other countries, there are disagreements about how Uber vets its drivers.
In Delhi, the firm has suspended operations while it improves the recruitment process after a driver was arrested in relation to the rape of a passenger.
Regulators in Las Vegas, Los Angeles and San Francisco have all raised concerns over the vetting process in their respective cities.
The company's regulatory woes are supplemented by several serious PR mishaps in recent months, including the revelation it was tracking journalists' journeys and that a senior executive had suggested it should consider paying investigators to "dig up dirt" on journalists who had written negative stories about the firm. Uber later apologised and said the executive's views had "no relation" to its official "views or approach".
Despite all this, however, the company recently secured $1.2bn in funding, valuing the firm at $40bn (£25.6bn) as it heads into 2015.