Video games should be in Olympics, says Warcraft maker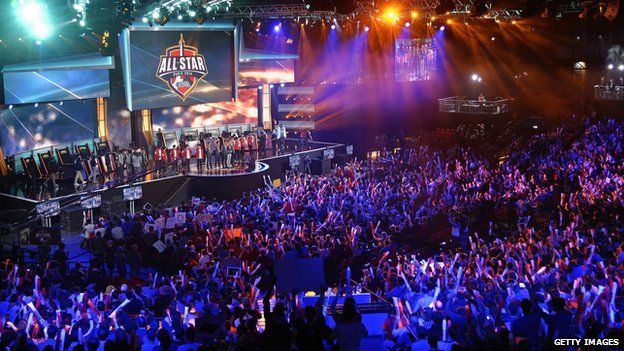 Competitive video gaming - known as e-sports - should be included in the Olympic Games, the creator of World of Warcraft has told the BBC.
Rob Pardo, who until July was chief creative officer at Blizzard Entertainment, said "sport" now had a broad definition.
"Video games are well positioned to be a spectator sport," he told Afternoon Edition on BBC 5live.
Professional e-sports events currently attract audiences of millions.
A recent major final held in Seoul, South Korea, filled a stadium of 40,000 people - with many more watching either online or at meet-ups around the world.
"There's a very good argument for e-sports being in the Olympics," said Mr Pardo, who was also lead designer on Starcraft: Brood War, a game often credited with kickstarting the e-sports phenomenon.
"I think the way that you look at e-sports is that it's a very competitive skillset and you look at these professional gamers and the reflexes are lightning quick and they're having to make very quick decisions on the fly.
"When you look at their 'actions per minute', they're clearing over 300."
However, he conceded that video gaming faced a cultural battle to win over those who followed more physical sports.
"That starts getting into how you define sport," he said.
"If you want to define sport as something that takes a lot of physical exertion, then it's hard to argue that video games should be a sport, but at the same time, when I'm looking at things that are already in the Olympics, I start questioning the definition."
Having new sports admitted into the Olympic roster is a long-winded process and, since the International Olympic Committee (IOC) capped the number of sports allowed in the Games, has become increasingly difficult.
Even if e-sports were to be recognised as an Olympic sport, that does not mean they would be included in the Games - it merely means a case can be presented to the IOC.
Take chess, for instance. Supporters of the game have long called for its inclusion the Games, but the IOC has been reluctant, considering it a "mind sport" and therefore not welcome in the Games.
Video games face the same hurdle, but have done their best to at least act like a sport, by adding measures such as an anti-doping programme.
Mr Pardo argues that e-sports could be visually appealing to a broad audience.
"You can do whatever you want with the graphics, you can make it be really exciting and competitive," he said.
The full interview with Rob Pardo can be listened to via the Let's Talk About Tech podcast. Download it here.