Wind-up radio inventor gets New Year Honour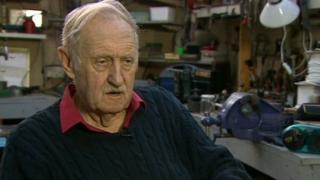 Inventor Trevor Baylis has been made a CBE in the New Year Honours list.
Best known for creating the Baygen wind-up radio, Mr Baylis was honoured for services to intellectual property.
Throughout his colourful life, which involved a stint as a stuntman, Mr Baylis has spent much of his time inventing or involved with engineering.
Most recently he has campaigned to make the UK a more hospitable place for inventors, and is seeking to help them safeguard their creations.
Stolen property
"It was a great surprise," said Twickenham-based Mr Baylis of learning of the award. "I got an OBE in 1997 and that was one of the best days of my life."
"I've been pushing hard to help other inventors because so many people get ripped off like a turkey or find they do not have the money to pay the lawyers to protect themselves."
Mr Baylis is currently heading a venture called Baylis Brands, which advises inventors about the best way to develop ideas and puts them in touch with other experts that can help turn their creations into marketable products.
He is also working to get laws changed to help inventors and engineers if they find someone else is profiting from their work.
"I'm trying to get patent theft recognised as a white collar crime," he said, adding that the idea had received a sympathetic hearing from the Metropolitan Police.
Mr Baylis' best known invention is the Baygen wind-up radio, which he came up with in 1991 while watching a documentary about Aids in Africa that proposed using educational radio programmes to tackle the virus' spread. An appearance on the BBC's Tomorrow's World in 1994 helped turn his invention into a commercial product.
Despite its success, Mr Baylis did not profit from his invention and the design is now under the control of the Freeplay engineering firm.
"Inventing is not about the money," he said. "Who wants to be the richest man in the graveyard? There are no pockets in a shroud."
He said many others could go through the same experience as he did and become an inventor of a household object.
"I want to make sure everyone is aware they are an inventor," he said. "I don't want people to think you have to be a genius to be one."