Consumers and tech - does Las Vegas know what you want?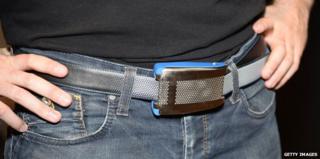 It's a monument to excessive consumption - the burgers are bigger, the neon lights flash brighter, and they've just unveiled the biggest big wheel in the world. And in the first week of January Las Vegas also becomes home to the excessive ambitions of an industry that believes it really knows what consumers want.
So what do the firms preparing to show off their new products at the Consumer Electronics Show believe that consumers desire from the advance of technology? Before flying to Las Vegas, I sifted through the mountain of email which accumulates in the inbox of every journalist who signs up for CES in search of hints.
I found a "new concept in wearable technology" whose "food tracking/logging capabilities will now be enhanced with "Speak & Eat" technology as well as fridge and cookie jar notification alerts". There was something called Mint which "with one breath, instantly measures and displays breath quality and hydration levels in the body on your smartphone", while France's myBrain promised a "connected headset to get rid of stress". So, monitoring our health and fitness is once again a big theme this year.
There were any number of ways of connecting and controlling your home and everything in it - from "the app-controlled smart baking system that turns anyone into a master pastry chef", to "a smart mattress cover that adjusts your bed's temperature and acts as a central hub to all of your other connected devices", to a "hackable dashboard that shows time, news, deadlines, temperature and any other metric needed for your smart home or office".
Plenty of emails promised "the very latest advancements in consumer-facing 3D printing technology" - though I see few signs yet of a 3D printer becoming the must-have accessory in every home. And then there were a host of other products whose appeal seemed uncertain or incomprehensible - from a tiny Kickstarter project offering "the first truly portable standing desk" to a business which boasted it was "showcasing its full line of virtual reality HMDs".
Now, many, if not most, of these products may never make much of an impact and some of the trends that are hyped in Las Vegas each year turn out to have little appeal to consumers - 3D television already feels very 2012. But 2015's big trends - consumer drones, autonomous vehicles and connected homes - look likely to have more staying power.
And looking back over many years of attending first the computer show Comdex, and later CES, I can see the changing face of a technology industry which has gradually learned how to talk to consumers.
Back in 2000, attending Comdex, I found the show buzzing with the promise of mobile computing. Bill Gates showed off "what he called a tablet computer, a kind of electronic sketchpad which turns ordinary handwriting into digital ink". Nokia was showing off a mobile device which allowed the user "to consult a diary, write notes, and access Wap-enabled websites, as well as just making a phone call".
An analyst predicting the rise of digital photography told me, "Your kids will soon be asking you, 'Dad did you have one of those cute old cameras with a film?'" He was right, as was Bill Gates about the changing face of computing - though in the longer term it wasn't Microsoft or Nokia which benefitted from it. The future was taking shape in 2000, and Las Vegas was the place to see it.
What we've seen over the past 15 years, symbolised by the merger of Comdex and CES, is the consumerisation of the technology industry. Companies like Microsoft which were used to selling products to other businesses have struggled to connect with consumers. The other change is that the industry is now flooded with new competition, from Kickstarter-funded start-ups to fashion brands like Nike and Fossil.
We will be trying to chart a path through the maelstrom of CES this week - stay with us as we work out whether cookie jar notification alerts really are the next big thing in consumer technology.