CES 2015: Tech to help cyclists stay safe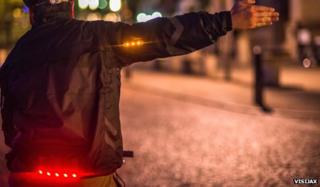 Smart pedals that warn when a bike is stolen and helmets for cyclists that spot an imminent crash have been unveiled at CES.
The pedals have in-built sensors that spot when a bicycle has been nabbed and can report where it has been taken.
The prototype helmet has been developed by Volvo to warn a vehicle when it has got too close to a cyclist.
It also also lets cyclists know if they are in a vehicle's blind spot so they can take action to avoid a collision.
The helmet works with popular smartphone fitness monitoring apps that track the location and speed of a cyclist. This information is shared with any Volvo vehicles nearby that are equipped with the firm's City Safety system. This alerts drivers to the presence of a cyclist even if the rider is in a blind spot or when visibility is poor.
The system calculates potential trajectories of both bicycle and car and warns when a collision is imminent. It can also take control of a car to apply brakes if it gets too close to a cyclist. Drivers will be alerted via the car's head-up display and the rider will be warned through a light mounted on the helmet.
Klas Bendick, a spokesman for Volvo, said the system's ability to warn about imminent collisions could help save lives as accident data suggests 50% of all cyclists killed on the roads collided with a car.
"By exploring cloud-based safety systems, we are now getting ever closer to eliminating the remaining blind spots between cars and cyclists and by that avoid collisions," he said in a statement.
Pedal power
Also at CES, French firm Connected Cycle showed off its smart pedal that it hopes will help reduce the number of cycles being stolen.
"In Europe six bikes are stolen every minute and everyone who cycles in a city knows that bike theft is a real problem," said Connected Cycle founder Jean-Marie Debbasch.
Connected Cycle's pedal looks like any other but, he said, it can be used to turn an old, dumb bike into one that is much smarter.
"Inside the pedal we have GPS, a GPRS connection and also a sensor that captures your activity," said Mr Debbasch.
"Everything goes to the cloud and is displayed on a smartphone app.
"It is totally autonomous, it has its own generation of energy and internet connection so that you can be alerted if someone steals your bike," he said. The pedal has its own coded key to ensure that it can only be used by its rightful owner, he added.
The smart pedals on display at CES were prototypes, said Mr Debbasch, and the firm was now preparing a crowd-funding drive so it can finish development and start commercial pedal production.