CES 2015: Healing the sick in Las Vegas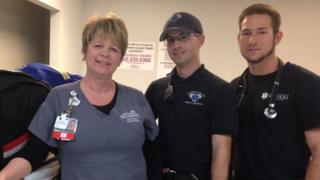 While everyone was being dazzled by health monitoring tech at the Consumer Electronics Show in Las Vegas, Zoe Kleinman slipped out to meet the people looking out for their health for real.
In one of the four first-aid rooms at the Las Vegas Convention Center, registered nurse Cindi Eldred, emergency medical technician Jonathan Pulella and paramedic Samuel Scheller were enjoying a rare quiet moment.
They had been tending to a steady stream of CES-goers displaying symptoms of gadget fatigue - nausea, dehydration, coughs, colds - and a remarkable number of seriously sore feet.
The healthcare equipment in here was reassuringly traditional - a stretcher, neck brace, blood pressure cuff, and, yes, a toilet.
The strip-lit medical room with its grey walls and shiny floor was a world away from the bright lights, flashing robots, pumping music and "booth babes" just on the other side of the door.
Not that nurse Cindi Eldred would know - she had barely left the room all week.
"I'm such a techy geek," she said. "I love phones, I love computers, I love TVs, but I'm afraid to miss a patient so I haven't seen one single thing."
Ms Eldred gestured proudly towards a table in the corner of the room on which lay a laptop and a tablet.
"I brought my own digital network," she said. "I got my Surface and my iPhone. I'm a Windows person really but I have an iPhone 6.
"My significant other has an iPhone and I don't want to have to learn a different system to tell him what to do," she chuckled. "I can't wait for the Apple watch to come out. You have to try everything."
Hot feet
"It's like a small city has moved to Vegas," said Samuel Scheller referring to the 150,000 people who descended on Nevada for the annual tech-fest.
Mr Scheller, a self-confessed "Apple junkie", was patrolling the enormous halls looking out for people taken ill and, if necessary, bringing them back to the treatment room.
CES is a minefield for the clumsy - the first-aid room could become a regular haunt for attendees who fell off the array of motorised shoes, skateboards and scooters zipping around on the show floor, or stumbled into the super thin, super large ultra high definition TV screens that dominated the manufacturers' stands.
Much to the exhibitors' relief, no doubt, not a single gadget-related injury had presented itself - the biggest hazard for attendees seemed to be their choice of footwear.
"They all bought new shoes just for CES and feel they need to break in those shoes at CES, not the week before," said Mr Scheller.
As a result, the hottest commodity in here is not drones or driverless cars - it's plasters.
"One girl had very formal shoes on and no socks - she had these huge blisters on her feet, she was almost in tears," said Ms Eldred.
"It's not all women though, I would say more men than women are asking for Band-Aids," she said. "We actually ran out - we've had to get more boxes."
The CES crowd may have had painful feet but they weren't nursing that many sore heads despite the many temptations of the city that supposedly never sleeps.
"The lifestyle these people live - they are well-educated - it's a slice of life of people who take care of themselves.
"People who come [to CES] are not out drinking," said Ms Eldred.
I'm less certain about that - but the team see numerous events at the Convention Center as they are not employed by the organisers of CES itself so they do have a sense of the bigger picture.
"At some conventions people enjoy the Las Vegas lifestyle more than they should, shall we say," she added. "Sometimes we see a lot of hangovers."
"I manage 200 special events a year," said Samuel Scheller, who runs venue contractor Guardian Elite Medical Services.
"This is our biggest event people-wise but not deployment-wise. Those are the festivals - it's a different environment, the music, the alcohol, the drugs."
Hi-tech health
At that moment, a forlorn looking CES attendee knocks on the door.
It soon becomes apparent that he is not an English speaker but it's fairly obvious what's wrong - he's gesturing furiously at his head.
"You have a headache sweetie?" asks Ms Eldred, tapping her temples.
He nods sadly. The team springs into action, checking his blood pressure, giving him some water.
"Sometimes there's a language barrier - there are so many people from different countries - but we have an interpreter on the phone if we need one," said Ms Eldred once the patient had been seen.
"But we haven't needed it yet. Today this guy came in with what I thought was plantar fasciitis," she said. "That's the beauty of having phones - I told him what I thought it was and we used the phone to interpret."
"I use the Google translate app - it's helped me tremendously," added Mr Scheller.
They both stress that they would always consult an interpreter in serious situations however.
"It's important to cover the language barrier - even with the phone we could miss something crucial," said Ms Eldred.
A policeman wandered in. He was obviously also a friend of the team.
"Got any duct tape?" he asked. He had torn his shirt on his taser, as you do.
"This is a very tight-knit community of emergency medical services," said Ms Eldred, who has worked for her employer Sunrise Hospital for seven years. "Everyone knows everybody. We work closely with the emergency medical transport teams, the firefighters."
Any top survival tips for next year's tech convention?
"Bring comfortable shoes," pleaded Sam Scheller. "Do not bring new shoes.
"I'm walking three or four miles a day here and even I bought new boots especially for CES - but I wore them in first."
Something tells me he's fighting a losing battle.