Marriott hotels do U-turn over wi-fi hotspot blocks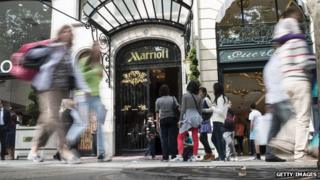 Hotel group Marriott International has announced it will stop blocking guests from using personal wi-fi kits.
The firm was fined $600,000 (£395,000) last year by a US watchdog after a complaint that it had jammed mobile hotspots at a hotel in Nashville.
Marriott responded at the time saying it wanted to block such devices only in its conference and meeting spaces and believed it had the right to do so.
But it has changed tack after facing a backlash from customers and the press.
"Marriott International listens to its customers, and we will not block guests from using their personal wi-fi devices at any of our managed hotels," the company, which is based in Bethesda, Maryland, said in a statement.
'Unacceptable' behaviour
The US Federal Communications Commission launched an investigation into the hotel's practices in March 2013 after being contacted by a hotel guest who said they had been unable to connect to the net via a mi-fi device at Marriott's Gaylord Opryland Resort & Convention Center.
An investigation by the regulator subsequently confirmed that the hotel was using a wi-fi monitoring system that de-authenticated guest-created hotspots.
This meant that if a guest connected their laptop, smartphone or tablet to either a mi-fi add-on or a hotspot created by a device already linked in to the hotel's internet system, then it would disconnect after a short time.
The FCC described the action as "unacceptable", noting that Marriott was charging conference attendees between $250 and $1,000 per device for internet access.
On top of a fine, the watchdog ordered the firm to submit compliance reports every quarter for the following three years to ensure it ended the practice.
Marriott, however, defended its right to block mobile hotspots used outside guest bedrooms on the grounds that it needed to tackle interference and security issues.
It said failure to do so would lead to "unreliable wi-fi performance, spotty coverage, and dropped connections" and that criminals might use hotspots to threaten "guests' privacy - for example, by attempting to obtain guests' credit card or other personal information".
The company found support for its claims from the American Hotel & Lodging Association lobby group, which accused the FCC of trying to tie Marriott's hands at a time of a growing number of cybersecurity threats.
But Google, Microsoft and the Consumer Electronics Association were among those to retort that such action was against the public interest, illegal and malicious, adding that the security claims being made were misleading.
'Marriott is bad'
The company subsequently faced a rash of negative press, with the Economist going so far as to headline an article earlier this month: "Marriott is bad, and should feel bad."
But while it has now changed its policy, Marriott has not backed away from claims that the move could play into the hands of hackers.
"We will continue to look to the FCC to clarify appropriate security measures network operators can take to protect customer data, and will continue to work with the industry and others to find appropriate market solutions that do not involve the blocking of wi-fi devices," it said.