BT faces tough new broadband tests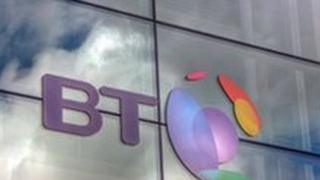 BT could be forced to raise broadband prices or slash the charges for rivals to use its network under tough tests being proposed by regulator Ofcom.
The new rules are designed to ensure that BT cannot price rivals such as Sky and TalkTalk out of the market.
Currently Ofcom judges that BT's retail and wholesale prices comply with the new test.
The telecoms firm said the test was "misconceived". It is unhappy about the scope of future tests.
Previous regulation required BT to allow rival operators to use its network to sell superfast broadband to consumers. The process is known as "virtual unbundled local access" (Vula). Some 3.4 million superfast broadband connections in the UK are currently offered under this agreement.
In order to allow rivals to be able to make reasonable profits, there needs to be a sufficient gap between the price BT charges them to use its network and the retail price at which BT sells its own broadband services.
Ofcom has decided that regular tests are required "to ensure that other communication providers have sufficient margin to be able to compete with BT in the provision of superfast broadband packages to consumers".
TalkTalk welcomed the decision to regulate the price of broadband.
"They [Ofcom] are right to be concerned that BT could abuse its position to undermine competition in superfast broadband. Robust regulation creates a more competitive market that better serves consumers and small businesses," the firm said in a statement.
Regulatory assistance
In response, BT described the plans as "misconceived but not unexpected".
'We're not opposed to the principle of a test... Ofcom has said our current prices will also pass this new test when it comes into force," said a BT spokesman.
"However, we do not think our sports costs should be part of any assessment and we reject the notion that Sky and TalkTalk require further regulatory assistance. They have more than 40% of the broadband market between them compared to BT's 31%."
Mobile acquisition
BT Sport - which costs the telecoms firm hundreds of millions of pounds per year - is currently offered free to its broadband customers.
Matthew Howett, an analyst with research firm Ovum, thinks the new rules may make BT more cautious when it comes to bidding for sports coverage next time around.
"The more BT has to pay for the rights, the more of a cost it is to them, which has the effect of reducing the margin they make," he said.
"If BT loses out on sports rights, then the argument goes that there is less competition in the provision of pay TV," he said.
BT is also in talks to buy mobile firm EE. Ofcom has indicated that this cost may also be taken into account in the new competition tests.
"It will be more interesting to see what happens in a couple of months' time when Ofcom performs the test again using more recent data," said Mr Howett.
The proposed test will now be subject to review by the European Commission and, if approved, will come into force at the beginning of March.