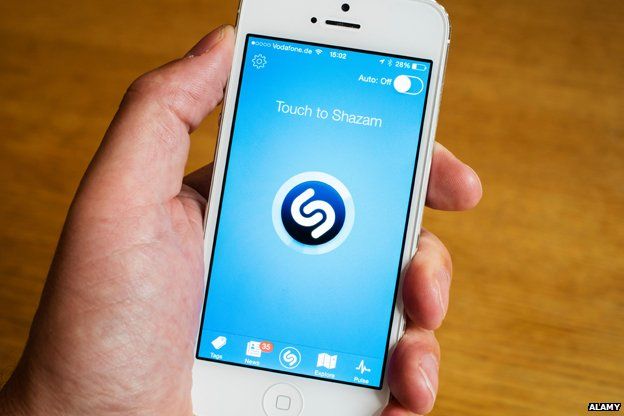 It's not often we get news of a UK tech firm that's a global success story and still owned in Britain. All the more reason then to celebrate this morning's announcement from Shazam.
The music discovery app has unveiled nearly £20m of new backing - but the key fact is that it is at a valuation of more than £660m ($1bn). That is quite a milestone, and the firm believes it is the first UK mobile app to break the billion dollar barrier.
Anyone who's ever held up their phone with the Shazam app open to identify a tune - and there are apparently more than 100 million monthly active users - may still be bemused as to how this stacks up as a valuable business. But the firm has another rather amazing figure to boast about.
It claims that roughly 10% of global digital music sales now originate from the app - users who follow a link after identifying a tune and go on to buy the track. Shazam gets a cut of that, but it's not these relatively slim revenues which have attracted new backers.
Shazam has two other revenue streams - mobile advertising and deals which involve using its technology as a promotion tool in all sorts of new ways. It is already being used in US television advertising - open the app during an ad and you get special promotions - and by some retailers, where it signals your presence to the store and rewards you with vouchers.
Now it has plans to follow others into using the camera on smartphones to offer added content via QR codes or augmented reality. This is an increasingly crowded area, with few signs yet of enthusiastic consumer uptake - so Shazam's future growth prospects, on which that billion dollar valuation is built, still look somewhat uncertain.
But this is no overnight success story. The company and its core team have been around for a decade, and is well established on both sides of the Atlantic. Founder and executive chairman Andrew Fisher is in London, with 150 staff, mainly the app development and music industry liaison teams. The chief executive, Rich Riley, works out of New York where the advertising team is based, and there's another research and development team based in Palo Alto in Silicon Valley.
The surprising thing is how long the company has managed to stay private without pressure from early backers for an exit via a stock market flotation. I get the impression that this is not too far away now - and then there will be a moment of truth. Will this UK success story, a billion dollar company born in in the capital long before anyone had heard of Tech City, choose to float on the London Stock Exchange? Or, like so many others, will the bright lights of New York prove irresistible?