Fake Facebook page costs US taxpayer $134,000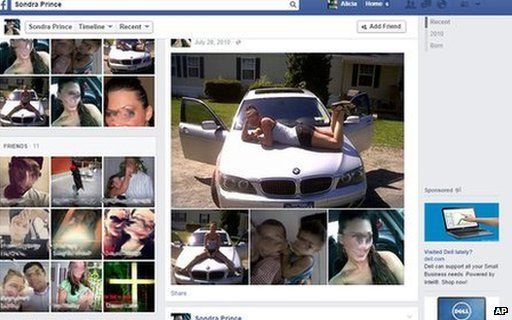 The US Justice Department is to pay a woman $134,000 (£88,640) after making a fake Facebook page that contained a photograph of her half-clothed.
Sondra Arquiett had sued the government after it had suggested she had "implicitly consented" to the creation of a page using her identity since she had previously granted officers access to her mobile phone
The DoJ has now settled the dispute, but has not admitted wrongdoing.
The case had raised privacy concerns.
Although the US government has not ruled out using similar tactics in the future, it has acknowledged the criticism it faced.
"[A] review is ongoing, but Department of Justice leadership has already met with law enforcement agencies to make clear the necessity of protecting the privacy and safety of third-parties in every aspect of our criminal investigations," said a spokesman.
A lawyer for Ms Arquiett said she believed officials now recognised the use of the fake page had been "totally inappropriate".
The case dates back to July 2010, when Ms Arquiett, a restaurant waitress, was arrested and accused of being involved in a drugs ring.
She pleaded guilty to conspiracy to possess with intent to distribute cocaine, and was later sentenced to six months of weekend incarceration.
At the time of her arrest, Ms Arquiett surrendered her mobile phone and consented to officers accessing its data to help them with related criminal investigations.
This included an investigation into her boyfriend, who was suspected of co-ordinating drug sales. He later pleaded guilty to conspiracy to distribute cocaine.
Ms Arquiett said she was not, however, notified that this operation would involve the creation of a "publicly available" Facebook page in the name of Sondra Prince, an alias she had used.
It included photographs of her posing on a BMW car, a picture of her wearing only a bra and underwear, as well as images of her son and niece.
The fake page was used to send a "friend" request to help catch the boyfriend. The US government denied it had been made "publicly available" in a wider sense. However, the Buzzfeed news site and the Associated Press news agency were both able to access the page before it was taken offline.
Ms Arquiett sued the government in 2013 saying she had suffered fear and emotional distress because the page indicated she had wilfully co-operated with the drugs ring investigation.
Her case was supported by digital rights group, the Electronic Frontier Foundation.
"If I'm co-operating with law enforcement, and law enforcement says, 'Can I search your phone?' - my expectation is that they will search the phone for evidence of a crime, not that they will take things off my phone and use it in another context," said Nate Cardozo, a lawyer at the organisation.
Facebook itself had also voiced its displeasure, noting that it explicitly bans fake profiles on its site.
"Facebook has long made clear that law enforcement authorities are subject to these policies," the firm's chief security officer Joe Sullivan wrote to the Drug Enforcement Administration last year, which was responsible for the page's creation.
"We regard the conduct to be a knowing and serious breach of Facebook's terms and policies, and the account created by the agent in the Arquiett matter has been disabled.
"Accordingly, Facebook asks that the DEA immediately confirm that it has ceased all activities on Facebook that involve the impersonation of others or that otherwise violate our terms and policies."
Related Internet Links
The BBC is not responsible for the content of external sites.