US reporter jailed for linking to stolen data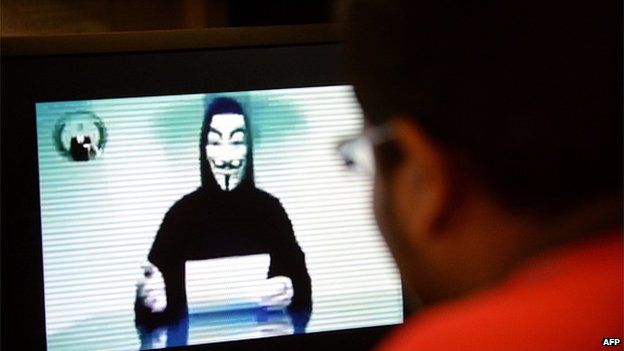 A journalist with connections to the hacking collective Anonymous has been sentenced to five years in jail after posting online links to stolen data.
Barrett Brown originally faced charges punishable by more than 100 years in prison, but the sentence was reduced after he pleaded guilty last year.
He said he broke the law to reveal details of illegal government activity.
The case drew criticism from advocates of free speech and media rights organisations.
One of Mr Brown's supporters is Glenn Greenwald, a journalist who publicised the National Security Agency (NSA) spying programme revealed by whistle-blower Edward Snowden.
Brown, a 33-year-old US journalist, became an advocate for Anonymous and was often interviewed about the group.
He was arrested after posting a link to data hacked from defence intelligence firm Stratfor.
In April he pleaded guilty to three charges, including obstruction of a police search, making internet threats and a charge related to his involvement in the sharing of the Stratfor data.
But according to the AFP news agency, in a statement written before Thursday's hearing in Dallas, Texas, Mr Brown launched a staunch rebuttal of the case.
He said: "The government exposed me to decades of prison time for copying and pasting a link to a publicly available file that other journalists were also linking to without being prosecuted."
His defence was backed by the media rights groups who said he was being prosecuted for his journalistic work.