Pinterest to open up user data to help target adverts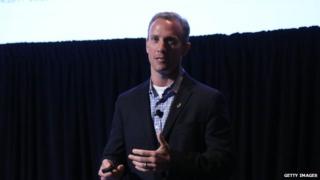 Social networking site Pinterest plans to unpack more of its user data to help advertisers produce more targeted ads.
The firm's head of operations said it would "focus on intent data" that would indicate what its users wanted to buy, the Wall Street Journal reported.
Pinterest currently offers ad products based on limited types of information, such as gender and location.
One analyst said the firm would struggle to increase revenues unless it facilitated more targeted advertising.
"Pinterest's marketing value lies more in the future than in the present," wrote Nate Elliott of Forrester Research.
He added that the network's users tended to post things that they were interested in acquiring - information that would be valuable to an advertiser.
"We're encouraging marketers to put limited resources into Pinterest right now. Once the site broadens its targeting capabilities, though, it'll be time to spend," he wrote in a blogpost published soon before the company's announcement.
This week, according to the report in the Wall Street Journal, Pinterest executive Don Faul has indicated a willingness to do so.
"The focus this year is on unlocking the potential of our intent data," he reportedly told a conference in New York on Thursday.
'Re-targeting'
He agreed that Pinterest was often used to bookmark things users wanted to purchase, saying it was not a "traditional user-generated content platform, it's a place where people are coming to discover new businesses, new brands and new products".
He told AdExchanger's Industry Preview conference: "Our users are expressing their future intent. It's not the shoes they bought last week, or where they went on vacation six months ago."
Mr Faul said that the plan was to make the data available this year. As it stands, Pinterest only allows advertisers to target their ads on a user's location, gender and the topics they are interested in.
The new products offered to advertisers will be based on a broader database and will enable them to delve deeper into Pinterest users' interactions with the site. But it will not include highly personal data, such as names and addresses.
According to the report, he also said the firm was considering allowing advertisers to combine their own data with that of Pinterest, allowing them to target their existing customers who use the site.
They could potentially "re-target" potential customers who visited their store but did not buy anything, he suggested.
The comments follow the launch of a beta version of Pinterest's first advertising product, called Promoted Pins early last year. The company claimed success last month and rolled out the product to all advertisers from 1 January this year.
In October last year, it was valued at $5bn (£3.33bn), but was still searching for ways to generate revenue from its large users' database.
A Pinterest spokesman said: "We currently allow advertisers to target people who have expressed interest in topic by searching or visiting a category feed, such as Home Decor.
"As part of our focus this year, we will be offering additional targeting options to advertisers. For example, in the future an advertiser could target 'outdoor enthusiasts', which is a group of users based on their interest on outdoor activities.
"We will not share individual user data with advertisers."