Google and Uber may become rivals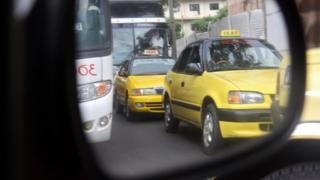 Uber has announced plans to research self-driving cars, which could put it head to head with Google.
Google launched a driverless car division in 2010.
Uber is teaming up with Carnegie Mellon University in Pittsburgh, USA, to fund the Uber Advanced Technologies Center, it said in a blog post.
In turn, Google may be mulling over plans to roll out its own car-hailing service, according to Bloomberg.
Bloomberg quoted a source close to Uber's board of directors who claimed it had been shown screenshots of an app-based cab service, which Google already offers to staff.
Google has been contacted by the BBC for comment but tweeted in response to the article:
"We think you'll find Uber and Lyft work quite well. We use them all the time."
In 2013, Google invested around $250m (£166m) in Uber, which now operates in more than 200 cities worldwide but has faced controversy over the way in which it vets its drivers following the rape of a customer in Delhi.
Uber's new research partnership will also look at maps and car safety technology, the firm said.
"The partnership will provide a forum for Uber technology leaders to work closely with [Carnegie Mellon University] faculty, staff, and students — both on campus and at the National Robotics Engineering Center (NREC) — to do research and development, primarily in the areas of mapping and vehicle safety and autonomy technology," said Uber.