Emoticons in texts can rack up huge bills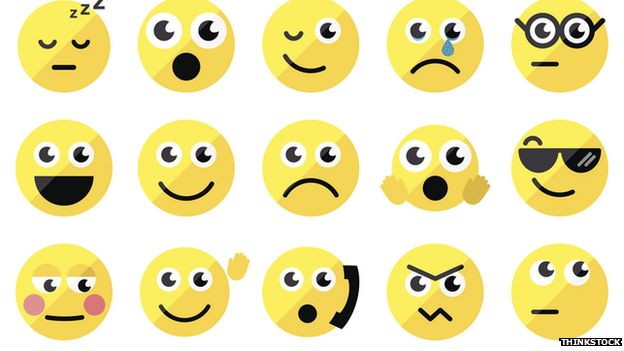 People using the little icons that denote happy, sad or other emotions in their text messages could be racking up big bills, the BBC has learned.
Consumer website MoneySavingExpert has received a large number of complaints about the issue.
It seems to affect older models of phones, including some Samsung and Apple handsets.
In Scotland, a woman ran up bills totalling over £1,000 after adding emoticons to text messages.
The issue revolves around how the handset interprets the icons, known as emoticons or emojis.
In some cases, especially on older handsets, the emoticons are converted into MMS (multi-media service) messages, which can cost up to 40p each depending on the network.
MoneySavingExpert also found that, in some cases, users creating their own icons from full-stops, commas and brackets found they were converted into emoticons, running up the same charges.
"We have seen many complaints from our users who have racked up huge bills for sending what they thought were text messages," Guy Anker, managing editor, told the BBC.
She complained to her provider EE and also plans to take her case to the Scottish ombudsman, an independent organisation that settles consumer complaints.
"There are a number of factors which can affect whether customers are charged for sending an emoji usually by the settings on the handset and so it is a manufacturer - rather than a network - issue," an EE spokesperson told the BBC.
Mr Anker thinks that operators need to take some of the blame.
"It is worth complaining to mobile phone providers if this was not made clear enough to you when you would be charged for a picture message," he said.
"Why on earth would someone sending a text message think it would be sent as a picture message?"
Many people will have a contract which allows unlimited texts but this may not apply to picture messages, he added.
"If you send a lot of these you may exceed your allowance very quickly," he said.
O2 said it had seen other examples of text messages converting into picture messages.
"If a customer is using a smartphone to send text messages to more than one person at the same time, they could be charged the cost of sending an MMS. It can also happen when the message contains icons, emoticons and symbols or an email address.
And some apps (such as Facebook) that integrate with a customer's contact list in their smartphone may result in an MMS charge too," it said in a statement.
"To stop this happening, customers should make sure they don't include symbols, icons or emoticons and also disable the integration between their contact list and apps like Facebook."
Some smartphones will alert customers when an SMS has converted to an MMS, it added.
Mr Anker advised users to regularly check their bills and also to consider using free text messaging services such as Apple's iMessage (which is free when sent to another Apple device) or WhatsApp.
In the autumn, Ofcom conducted a survey looking at all the reasons why people received higher-than-expected bills.
Emoticons being billed as picture messages had affected 4% of those who responded to the survey.
"Mobile network providers decide how these messages are charged, and Ofcom has clear rules in place to ensure prices are transparent.
"We would expect operators to make clear how much MMS messages cost under your tariff, and when those charges would apply," a spokesman told the BBC.
Related Internet Links
The BBC is not responsible for the content of external sites.