Activision reveals Destiny player figures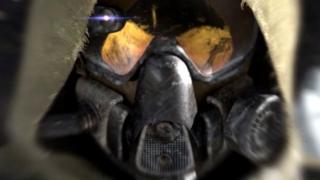 More than 16 million people registered to play sci-fi shooter Destiny, publisher Activision Blizzard has revealed.
The player numbers were made public as the gamemaker unveiled its annual earning figures.
In the 12 months to the end of 2014, Activision Blizzard had revenues of $4.81bn (£3.14bn), slightly less than the $4.85bn it made in 2013.
However, revenue for the final quarter was slightly up on 2013 at $1.58bn.
Surprise success
Last year was a busy one for Activision Blizzard which saw it launch several new titles, expansions of long-running games and spin-offs from established properties.
The big launch of 2014 was futuristic shooter Destiny, the development and marketing of which cost the company about $500m.
Blizzard boss Mike Morhaime said 16 million people had registered to play the game but did not give a figure for how many were regular players.
Also launched last year was Hearthstone, a card-based combat game linked to the long-running Warcraft series of titles. About 25 million players had signed up for that, the company said.
A World of Warcraft (WoW) expansion - Warlords of Draenor - made its debut in November and helped to push subscribers back above 10 million.
Prior to the release of the game, WoW player numbers had been on a long-term decline. About 3.3 million copies of Warlords were sold in the game's first 24 hours on sale.
The gamemaker said it also enjoyed success with Call of Duty: Advanced Warfare, which was the top-selling console game in 2014.
Eurogamer deputy editor Wesley Yin-Poole said the omission of sales figures for Destiny and Advanced Warfare had "troubled analysts" and said it was becoming clear that the CoD series was past its peak.
"Now it's looking to new markets, such as China, to boost Call of Duty revenue with a special free-to-play version," he said.
With no mention of how many people were still playing Destiny it was hard to judge its popularity and staying power, he said, but Activision was doubtless "satisfied" with its success so far.
Hearthstone was the surprise hit, said Mr Yin-Poole.
"Twenty-five million players is a massive number nobody, least of all Blizzard, predicted when the game was being developed," he said, adding that the card-based game could end up as a big revenue earner for the company as the venerable WoW declines.
Looking forward to 2015, it said it planned to launch two new titles - a futuristic squad-based shooter called Overwatch and a team-based "brawler" called Heroes of the Storm.
The company issued a warning about future earnings, saying that the weakness of the dollar could hit its 2015 revenues as about half of its income is generated outside the US.