Google adds medical information to its search results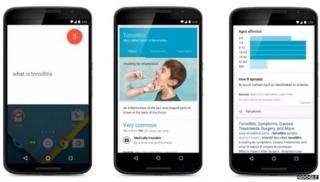 Google is rolling out a health feature that provides information about "common" medical conditions in response to related searches.
The facility provides medical illustrations, possible treatments and other data ahead of its traditional links to others' sites.
The firm says it worked with doctors to develop the service, but adds that it is not intended to replace visits to a professional.
It is initially limited to the US.
But the firm adds that it plans to extend the service across the globe, adding rarer ailments in time.
British doctors have welcomed the initiative, but caution that the information needs to be edited to become suitable for local markets.
"One in 20 Google searches are for health-related information," said Prem Ramaswami, announcing the launch of the feature.
"We'll show you typical symptoms and treatments, as well as details on how common the condition is - whether it's critical, if it's contagious, what ages it affects, and more.
"For some conditions you'll also see high-quality illustrations from licensed medical illustrators. Once you get this basic info from Google, you should find it easier to do more research on other sites around the web, or know what questions to ask your doctor."
The effort is the latest in a series of moves into health by the search giant.
Last year it revealed it was funding development of a cancer and heart-attack detector, which would involve placing nanoparticles in users' bloodstreams.
It has also bought the maker of a spoon for Parkinson's patients, is working on smart contact lenses for people with diabetes, and has invested in 23andMe, a start-up that sells genetics tests to the public.
'Unnecessary treatments'
The latest service is an extension of Knowledge Graph - a Google initiative to map the various connections that link together different objects, facts and concepts.
The company introduced the information tool in 2012, and uses it to provide boxed summaries that appear to the top right-hand side of desktop searches, and above the results of its smartphone Search app.
Much of Knowledge Graph's information is sourced from Wikipedia, the online encyclopedia written by its readers. While Wikipedia is hugely popular, its crowdsourced nature means its entries can include inaccuracies.
To minimise the risk of errors in the health-related tips, Google says it has had the information checked by doctors employed by itself and/or by Minnesota's Mayo Clinic.
Dr Andrew Goddard, from the UK's Royal College of Physicians, cautiously welcomed the development.
"The public have come to rely on Google and other search engines so it is important we understand how best to use these resources to allow people and patients to be engaged with their health and healthcare," he said.
"The involvement of the Mayo Clinic is reassuring but if it were to be rolled out in the UK we would like to see a UK badge of quality assurance."
Dr Richard Vautrey, deputy chair of the British Medical Association's GP committee, added that the initiative had the potential to reduce pressure on family doctors if it encouraged the public to take care of minor conditions.
But he too had concerns about Google's willingness to adapt to the UK's health system.
"This experiment from Google may well have benefits although we will need more detail to see how practically it will work," he told the BBC.
"Most importantly it must be underpinned by clinical guidance from UK based health professionals as there are stark differences between the UK and the USA health systems and culture.
"Some evidence suggests that many patients in America are often exposed to unnecessary investigations and treatments that are not recommended here, partially owing to the profit driven incentive that underpins the USA's private health care system."