The card aiming to end Nigeria's fraud problem
By Tom Jackson
Business reporter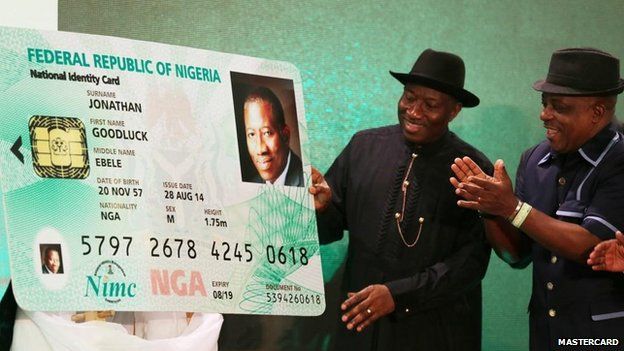 Nigeria has a bad reputation when it comes to fraud.
"Dear Friend" emails originating from the country - also known as 419 scams - are among the most notorious in the world, with statistics from Ultrascan AGI suggesting losses from such schemes totalled $12.7bn (£8.2bn) in 2013.
And the number of scams is growing by 5% each year.
"Nigeria certainly has a problem," says Cormac Herley, principal researcher at Microsoft Research, who has looked in detail at 419 scams.
"[The country has] become associated with a particular form of scam that's very visible and known to everyone who receives those emails."
However, identity fraud is also a serious problem.
In May last year, 16 people were charged in the US for using stolen information to obtain money and goods and then shipping them to Nigeria.
Those arrested, most of them Nigerian, were charged with taking over bank or stock brokerage accounts, removing all the money, and making purchases. They were eventually sentenced to seven years imprisonment.
And it is not just foreigners who are targeted by such fraud.
Nigeria's Inter-Bank Settlements Systems estimates the country's banks lost 159 billion naira ($800m; £515m) to electronic fraud between 2000 and 2013.
Faced with its negative international reputation, and local banking losses, the Nigerian government is seeking to address the issue centrally.
Last year, the National Electronic Identity (e-ID) Card was launched in collaboration with MasterCard, with President Goodluck Jonathan the first recipient.
The smart card's Match-On-Card technology matches a holder's fingerprint against a profile stored in the embedded chip.
The card is also a travel document, conforming to the same standards as international passports. It contains electronic identification information, as well as Public Key Infrastructure (PKI) technology that allows for document signing, non-repudiation and encryption.
The National eID card is "capable of identifying two identical twins by the use of biometrics," says Chris Onyemenam, chief executive of Nigeria's National Identity Management Commission, which is handling the rollout of the cards.
Part of the problem for Nigeria, which has a population of about 170 million, is that until now it has had no unified national system for recording identity data.
The new card is "actually addressing the issue of multiple identities by some Nigerians," explains Mr Onyemenam.
"It is addressing the issue of stolen identity. It is helping security agencies verify and fish out who the real culprit is."
Aside from its identification features, the card offers can be used as a form of payment.
Separated from the other services by a firewall, the payments function uses MasterCard's prepaid technology and is chip and pin certified.
Daniel Monehin, division president for sub-Saharan Africa at MasterCard, says the fact the card has a computer chip embedded protects cardholders from fraud, and protects against the creation of counterfeit cards.
The rollout of the payments-enabled e-ID card will also go some way to addressing another of Nigeria's major issues: lack of access to banking.
Fully 70% of adult Nigerians do not have a formal bank account.
"By giving every Nigerian of 16 and older an identity card with payments functionality, the government can effectively eliminate financial exclusion in Nigeria, and help citizens to improve their livelihoods," says Mr Monehin.
"The broader economic impact of the card will be felt as the previously unbanked and under-banked are able to gain access to the mainstream economy and the visibility of their assets allows them to build a financial history and establish creditworthiness with financial institutions."
This will be particularly helpful to small and medium-sized enterprises, Mr Monehin adds, which will now be able to access the financing that they need to grow their businesses.
The eID card has, however, caused some controversy.
Civil liberties organisation Privacy International has raised concerns about the data integration, saying it would make it easy to link together pieces of information about a person.
It is also concerned about the combination of the identity scheme with a strongly commercial initiative such as the bank card.
Concerns were also expressed on popular Nigerian social networking site Nairaland.
"The future of 170 million Nigerians sold to MasterCard," said one user, while others said they were worried about their personal data and how it would be used.
MasterCard, however, has reiterated that the banking function is separate from the others and it does not have access to the identity information of any Nigerians.
Nigeria is actually ahead of the game globally in terms of rolling out such identity cards, with identity analyst firm Acuity Market Intelligence forecasting half the world's population will have a chip-based National e-ID card in five years time.
For Nigerians themselves, however, the proof will be in the pudding.
Paul Adepoju, who lives in the city of Ibadan, says many Nigerians are not aware of the threat of identity theft due to the low level of education about e-banking.
He added, however, that if the government could facilitate easier uptake of the cards, there was nothing to say this would not be successful.
"At least they are doing something, and we have to be optimistic that something somewhere and somehow could, would and should work.
"It could be this one - we will only know when every Nigerian has got it."