US drone rules impact Amazon plans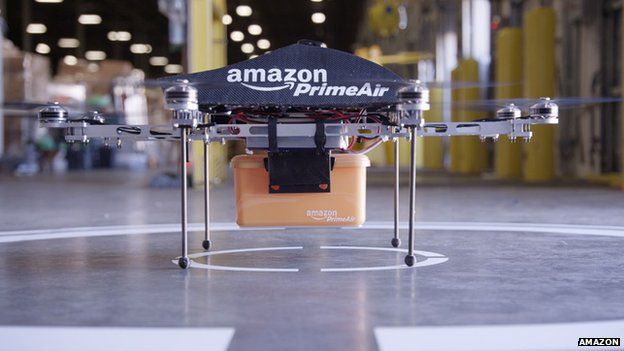 The Federal Aviation Administration's (FAA) draft rules for the use of drones in US airspace do not permit Amazon to launch its Amazon Air delivery service.
The draft rules state that pilots must remain within eyesight of their unmanned craft, although it said it would consider factoring in a second line of sight in some cases.
Pilots must also be FAA-certified to operate drones.
Amazon said it remained "committed" to its plans for delivery via drone.
"We are committed to realising our vision... and are prepared to deploy where we have the regulatory support we need," said Paul Misener, Amazon's vice-president of global public policy.
The firm had said last year that in terms of the technology required for Amazon Air, it was ready to launch as soon as regulations were in place.
The draft rules will be open to public consultation and are unlikely to come into force for a couple of years.
The Small UAV (Unmanned Aerial Vehicle) Coalition, of which Amazon is a member, said it "applauded" the proposed rules, launched yesterday by the FAA, but mentioned several caveats, including relaxing the rule about line of sight.
"First Person View technology is available now, and is critical to unleashing the power of automation in this space," the group said in a statement.
"Until small UAVs are able to go beyond the line of sight, we are not maximising the technology as other companies already do."
It also said the proposals should be explicit about whether companies can test drones on private property, and should not limit operation to daylight hours.
The coalition, whose members also include drone manufacturers Dji and Ghost, GoPro and Google's R&D arm Google X, added that the altitude limit of 500ft (150m) should be raised "with appropriate safeguards".
China's biggest internet retailer Alibaba trialled drone deliveries in the country at the beginning of February.
Google has also been testing drone deliveries in Australia, and DHL carried out a delivery by unmanned aircraft in Germany.