Samsung hit by latest smart TV issue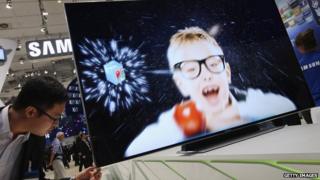 A problem during a server update left many Samsung smart TVs looking not so smart this week.
Affected sets were unable to connect for two days, meaning owners could not use their more advanced features.
The problem is now fixed, Samsung said.
It follows a series of issues for the firm in recent weeks, which admitted that its sets were sharing users' voice data, before opening an investigation into why its TVs were adding adverts to media played via third-party apps.
In a statement released on Thursday, Samsung said that it conducted its regular update of the Smart Hub server on the morning of Tuesday, 24 February.
"During this process, it was reported that some of our customers in certain countries encountered difficulties in connecting their Smart TVs to the server.
"The difficulty was caused by errors in matching the country code with the relevant server, and the issue has now been resolved," the company said.
While the problem was relatively minor, according to Gartner principal research analyst Paul O'Donovan, it came in the context of a difficult few weeks for Samsung.
On Wednesday, 18 February, Samsung said that some of the smart TVs were uploading their owners' voices to the internet in an unencrypted form.
That came a little more than a week after the firm warned customers who were using the voice activation function on the smart TVs to beware what they discussed in their living rooms.
Samsung acknowledged that the sets were listening to conversations customers were having and sending them to a third party server in order to identify when the smart TV was being given a command.
'Unfortunate'
In the intervening period, Samsung also launched an investigation into why some of its smart TVs were adding adverts to media, even though none should have been there.
"It is just unfortunate that all these things have come about at the same time for Samsung. They are the largest manufacturer in the world, so it is not surprising that issues are amplified. But it is a case of these being relatively minor incidents," Mr O'Donovan told the BBC.
But he added that the latest issue was something that was to be expected with new technology. He said that the speed of progress may be outstripping manufacturers' ability to guarantee a universally reliable service at all times.
"These are new and more advanced than what we have had in the television market before. They take some time to settle down - maybe within the next year."
A Samsung spokeswoman was not immediately able to say how many customers were affected.
She added: "We apologise for any inconvenience that might have been experienced by our customers, and we remain committed to providing the best service at all times."
She advised customers in need of assistance to contact their local call centre.