Xiaomi launches cheap action camera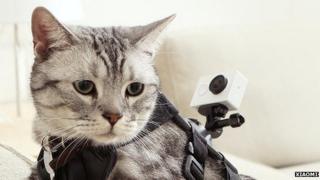 Chinese smartphone maker Xiaomi has launched a cheap action camera that costs only 399 yuan (£41).
The Yi Action Camera shoots video in 1080 high-definition, has a 16 megapixel camera and a wide-angle lens.
The device can also be used to make time-lapse films and is waterproof to depths of 40m.
The gadget could provide competition for Go Pro whose entry-level devices cost more than twice as much but are not as well equipped.
The device can be paired with a smartphone so it can be controlled remotely and to help share any video or images it captures.
However, available accessories for the Yi suggest it is more designed for domestic use than for people keen to film themselves taking part in extreme sports. So far, extras for the Yi include a selfie stick and a harness that allows it to be attached to a helmet, bike or even a cat.
In addition, the Yi's case is not toughened to withstand the knocks common when cameras are used outdoors or for sports.
The device is currently only available in China but Xiaomi is planning to open an online store that will let people outside the country buy some of its products directly.
Stuart Miles, founder of gadget site Pocket-lint, said the device was entering a market that was full of Go Pro "wannabes" and could struggle to find buyers.
"Go Pro has brilliant traction within the action junkie audience, and more importantly its devices work amazingly whether that's being attached to someone going for a run or jumping out of a spaceship," he said.
"That loyalty isn't something that can be replaced with a cheaper price," he added.